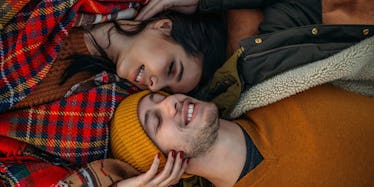 5 Ways To Make Time For Your Partner When You're Home For The Holidays
If you're like me, planning a trip home for the holidays can suck, especially if you live out of state and have various extended family members.
Between me and my husband, we are looking at six different families we have to visit this year, with only four days to do it.
I honestly love living a state away, as it makes for less drama, but at the same time, when I'm home, I feel pulled in all directions, particularly around the holidays.
Here are five ways to plan a stress-free holiday with your family:
1. Plan your agenda.
I can't stress this enough. Planning is key.
Scrambling at the last minute and trying to figure out when everyone's holiday dinner is sucks.
If you end up spending more time with one side of the family and the other side finds out about it, this is especially true.
For instance, this year, we are giving each family two visits a piece.
Luckily, we've managed to schedule it so we can make it to everyone's party and then a smaller-scale visit later.
Make sure to find out everyone's plans for the holidays and try to schedule your trip accordingly.
2. Share your agenda with the family.
Last year, we made this mistake.
My husband and I had it all planned out, but guess what?
We never told anyone.
This caused a hell of a lot of drama.
His parents thought we would have an extra day with them before we left to return home, and my parents thought we spent too much time with his family.
This year, we made sure to tell them the dates we were available and the times we had allotted for each family.
We made it clear those dates were it, and to consider anything extra just a bonus.
3. Actually spend the time home together.
If you have a spouse or significant other, make sure to take him or her with you.
Last year, my husband and I spent most of Christmas apart.
We were so stressed and tired from trying to see everyone that we decided to split.
He spent time with his family, and I spent time with mine.
We didn't realize it at the time, but it was miserable.
I didn't get to spend one of the most important holidays with my hubby.
I mean, the whole reason we got married was to be together.
So, this year we made it a point to let our families know this was a non-negotiable. We aren't splitting up.
4. Don't try to please everyone because you can't.
That was our big fail last year.
We were so busy trying to please our family that we lost ourselves in the process.
We never had time to do what we wanted, like take a walk on our favorite trail, have coffee at our favorite shop, sleep in, etc.
We were living for everyone else.
We were too caught up with trying to make our family happy, even if it meant being miserable in the process.
We were sleep deprived from visiting folks from 7 in the morning until 1 or 2 the following morning.
Don't get me wrong; visiting family is great, but not if that means breaking your back in the process.
Do what you can, and have limits.
This year, we refuse to do anything before 10 am and after 11 pm.
We are also stealing a couple of mornings for ourselves, which brings me to my last point.
5. Make time for yourselves.
Even though you will be together this holiday season, that doesn't always mean you'll be "together."
My husband and I end up talking with other people, but never to each other.
This year, we have plans to visit our favorite Chinese restaurant, walk our favorite trail and have coffee at our favorite coffee shop.
This will allow time to reconnect and recharge after visiting those crazy in-laws.
I'm looking forward to holding my hubby's hand and walking our favorite trail while admiring nature.
It's a great way to spend the holidays together since it will be so packed with other people.
Visiting family around the holidays can be stressful.
But with the right plan in place, you may find that you'll actually enjoy the holidays this year.
I'm looking forward to a busy, yet relaxing vacation and more to come.