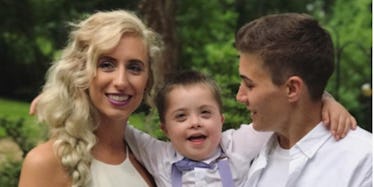 6 LGBTQ+ Wedding Photos That Will Give You The Feels During Pride Month
Jess Instagram
June is Pride Month, a time to celebrate the humanity, love, and contributions of the LGBTQ+ community. Marches and plenty of other events will commence to honor this month, but we're celebrating it by lifting up one the major parts that really make pride month worth it all: the love between partners.
Regularly, LGBTQ+ people are challenged and oppressed for their sexual orientation, gender identity, and their overall relationship status — all of which is actually none of the public's business.
So now, let's stick our noses into their lives by simply celebrating what is often the most important moment: marrying the person you love.
Here are six of the sweetest, coolest LGBTQ+ wedding moments. Cue the tissues, people.
Meet Jess, Jamie, and their 6-year-old son, Jaiden.
These two are proud parents of their son, Jaiden, who has Down syndrome and are also participants in the yearly Pride marches.
Courtney and Alexandria basically cheesed like this their entire day.
Courtney wrote in another post on Instagram,
Still trying to wrap my head around the fact that I somehow convinced a real life princess to marry me.
*turns into a bucket of tears*
Stephanie and Allison were two gorgeous brides in two pretty, flowing dresses.
Catch that hashtag: Two brides are better than one!
Delea and Shalyn decided that the "first song"should be a little more fun for their big day.
Delea tells Elite Daily,
We did a lip sync mash-up instead ad it was a blast.
And about the love she and her partner share, she says,
Opposites attract but the heart wants what the heart wants. Love wins!
These guys and all of their groomsmen wore sneakers with a rainbow sole.
What a way to celebrate love on love on love than with the official symbol of LGBTQ+ pride worn by the entire wedding party?
DJ & Dorian kept up the tradition of not seeing each other before exchanging vows.
But they sure made their first touch a beautiful moment to remember anyway.
You should so be taking wedding ceremony inspo from these shots because lip-syncing your first song looks like peak fun and how can you not want to own a pair of rainbow sneakers after seeing that shot?
But more than anything, the easy take-away is that love is love is love. The LGBTQ+ community is living, loving and raising families and they deserve the freedom to do so in complete peace.
Happy Pride Month!