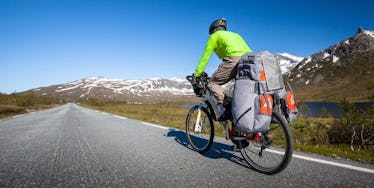 Saddle Stories: 6 Lessons I Learned From Biking Across The Country
Shutterstock
Most of the time, when new people ask me how I spent my summer, they instinctually roll their eyes when I say, "I biked across the country."
Their reaction unwaveringly follows a series of stages: annoyance (that I would lie during a casual conversation), doubt (trying to figure out if I'm being sarcastic), disbelief (similar to doubt, but following the realization I'm not being sarcastic) and amazement (usually followed with phrases like, "On a bicycle?" "In just one summer?" "Are you insane?" or just a simple "Oh wow").
I would be lying if I said I didn't love seeing people's reactions to my bike journey across the United States.
I rattle off the things they want to know: Baltimore, Maryland to Seattle, Washington, 4,500 miles, 70 days, 30 other teammates, and riding for a nonprofit that raises support and awareness for young adults affected by cancer.
What I really love, though, is when they go a step further, and they ask me about what I learned.
At first, I worried no one would be interested in knowing how I learned to FaceTime while biking, or how to get bike grease out of my clothes while I washed them in the shower. And I quickly realized the things I learned are applicable on a larger scale.
The lessons I learned were lessons about myself and about others, relevant to all walks (or rides) of life.
Here are six of the important ones:
1. Strangers can become friends, who can become family.
I started this journey with a group of strangers. I left behind family and friends, and I walked into a group of unfamiliar faces.
After only a few short days, these people came together and formed a family. We never stayed in the same place for more than a night or two. We only had beds to sleep in once or twice (we were usually on the floor in our sleeping bags).
For 70 days, the only familiar things to us were the saddles on our bikes and the faces of our teammates. I learned the importance of trusting others and of opening up to new people. I will never forget the third day of our journey for this exact reason.
We were climbing through the Appalachian Mountains. It was torrentially raining all day, below freezing and miserable. I hadn't trained nearly enough, and I was struggling, to say the very least. Blood, sweat and tears were shed en masse.
Internally, I was resenting my choice to do this ride. My teammates, though, cheered me on the entire way, shouting over the rain and the cars whizzing past us. They were my support system, and they were the only reason I didn't pack up that day and go home.
That day and every day afterward, my team never ceased to amaze me. Their unwavering support, on the road and off, proved to me the importance of a team and friends.
They taught me that by allowing others into your life, you can create family anywhere you go.
2. Your body is more than your pant size.
Before starting my ride, my self-esteem was low, really low. It was like just-got-ripped-apart-by-Gordon-Ramsey-in-his-kitchen low.
I hated my body, I hated the fact that I was not a size 2, and I was constantly fad dieting, cleansing, juicing and body-shaming.
While biking, though, I realized just how important and useful your body is. My body, the same one I had been pulling apart, prodding and hating, was carrying me across the country, over the Rocky Mountains and through 40-mph headwinds, pedaling 80, 90 and sometimes 100 miles a day.
Suddenly, it didn't matter if my jeans from high school no longer fit, that my obliques weren't as tight as the models I follow on Instagram or that I would never be as thin as I was when I had mono for a month. My body was strong and able, and I learned to be grateful of that.
I didn't lose any weight; in fact, I probably gained some, based on how much we were eating every day to stay energized. But, it didn't matter. I learned to love my body for its capabilities, and not how it looks in a bikini.
3. People are, at their core, kind and generous.
Most of the time, our team relied on donations from the local communities we were biking through to sustain ourselves. We stayed in churches and schools, and we ate whatever was given to us for free. It was humbling, to say the least, to go storefront to storefront, asking for food.
We were overwhelmed by the generosity of those around us, and by the willingness to give to a group of young adults who were helping young adults with cancer. What was even more amazing, though, were the people who gave without asking.
Cars would stop us while we were biking to hand us whatever loose bills the driver had in his or her wallet. One young couple saw us and gave us the cherries they had just bought at a farmers market.
A park ranger in Wisconsin welcomed us to her state by giving us fresh kringle, the "pastry of Wisconsin," crying as she talked about her best friend's son who passed away at 13 from leukemia.
If anyone fell off his or her bike while on the road (which happened pretty often on our team), a car was almost guaranteed to stop. These people would pause traffic to help us of the road to safety, grabbing whatever first-aid materials they had in their trunks.
Restaurants almost always let us use their "customers only" restrooms. No one was opposed to giving a warm and encouraging hug to a couple of bikers, no matter how sweaty we were.
I am originally from New York, and I've spent a lot of time in the city, where pushing, shoving, scoffing and cursing was the only way you survived. It left me feeling jaded about society, about what had become of humanity.
All it took was a bike ride across the country for that feeling of resentment to be lifted, and to realize people are, by nature, good. Sometimes, all it takes is seeing the good in one person to spark the charity of others.
4. The hardest thing you will have to do today is relative.
Something we reminded ourselves of as often as we could was this mantra:
Biking is hard, cancer is harder.
Every day, no matter how tough our ride may have been, the hardest thing we were doing that day was just that: riding our bikes.
Our mission was helping young adults with cancer, and that is what motivated us along our ride. But, we would be remiss not to think about all the people going through worse things than us, cancer or otherwise.
People all over the world are dealing with poverty, disease, pain and death. Whenever I have a bad day, a difficult homework assignment or a fight with a friend, I remind myself of our mantra. I remember my bad days likely pale in comparison to the bad days of others.
5. There is nothing better than a cold beer.
There are few things in life better than a well-deserved, ice-cold beer after a long day. Almost nothing else will remind you of that more than biking all day in the sweltering summer heat, and not knowing if you'll even have a place to shower that night.
Our hard work was biking, but whether a day consists of working at a stressful job, taking care of cranky children, fighting an emotional battle or biking for 12 hours in 95-degree heat, a cold beer is the perfect ending to a stressful day.
We drank a lot of beer on our trip, including local beer, craft beer, cheap beer and free beer. But it was always cold, it was always well deserved and it was always shared among friends.
I highly suggest it.
6. You are capable of anything you set your mind to.
I should mention I am not in very good shape.
I work out (occasionally) and eat healthy (sometimes), but I could probably watch an episode of "Orange is the New Black" in less time than I could run 4 miles.
I should also mention that before this trip, I knew next to nothing about biking. I didn't even know a tire had a tube inside of it that needed to be changed when the tire went flat.
When I decided to participate in this adventure, I had plenty of people doubt my ability. When we were finished, I had teammates sheepishly admit they didn't think I would last the whole time. In hindsight, I had a lot of doubt in myself, too.
But, I finished. We all finished the 4,500 miles, coast to coast. I learned to change flat tires, embrace bike grease, pee in the woods, rub some dirt on a road rash, live off cold pizza and just keep riding.
We all learned to push ourselves past where we thought possible. We learned that as clichéd as it sounds, mind over matter will truly prevail.
If I can bike across the country, you can do anything. If you set your mind to that thing, focus on it intently and believe in yourself, you are truly capable of anything.