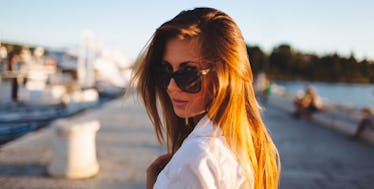 Perfectly Content: How I Stopped Worrying About Where I 'Should' Be
I love a good to-do list. You know what I'm talking about, when the check boxes are perfectly aligned, and everything you've ever thought is recorded in color-coordinating ink.
No? Well, this is embarrassing. And we've only just met.
But a great to-do list is often a catch-22, as the things I haven't accomplished jump off the page: "Find the meaning of life by Monday" or "Publish award-winning piece with the New York Times by Wednesday."
As a 25-year-old writer living in New York City, my life is constantly in a state of looking forward. Pitch more, write more, reach out to more editors, research more publications to write for in the future, take up more hobbies.
While it's this ambition that drives so many careers, it's also the thing that hinders us. We aren't putting down our phones, and we're doing things that have no other purpose other than to edit for a good Instagram photo later.
What about the things that enhance our lives? I miss reading a book for hours on the weekend, cuddling with kittens, taking a long walk through the park, unplugging and adventuring into nature.
I miss curling up with a girlfriend to watch reruns of "Friends" with wine goggles securely fastened, catching up with family on FaceTime, baking and visiting a new coffee shop to write letters to friends abroad.
In an age where everyone's best work is published on social media, it's easy to feel inadequate and think of all the things we "should be doing," as opposed to relishing in exactly where we are right now.
So instead of putting yourself down for all the things you're not, grab the pom-poms and start feeling yourself. Because if you aren't your own cheerleader, how can you expect anyone else to be?
And when you look back in 10 to 15 years, will you remember your to-do list or will you think about the adventures you missed?
Today, instead of writing a list that's longer than "Infinite Jest," write three things you want to accomplish (write that article, do laundry, take phone calls, have meetings), and three fun things you actually want to do (eat a cupcake, take a friend to lunch, call your mom).
Because trust me when I say this: In this very moment, you're exactly where you need to be.