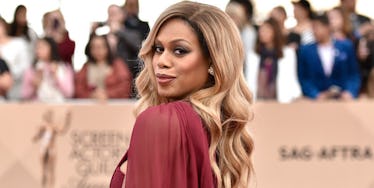 Laverne Cox Shares What It Means To Be Proud Of Who You Are
REX/Shutterstock
For those of you who don't know, June is LGBT Pride Month. We here at Elite Daily are so excited to celebrate at LA Pride this weekend, and to continue to stand in solidarity with the LGBT community not just this month, but every month.
For another wonderful addition to Pride Month, Laverne Cox and TV Personality Ross Mathews have teamed up with Marriott Rewards for their #LoveTravels project. The project is an art installation that showcases unique expressions of love — specifically from the LBGT community — in the form of paintings, photographs, doodles and more. Laverne and Ross are in Washington, DC to unveil the project tonight.
Laverne tells Elite Daily over the phone that she's proud to be part of this project because it combines her love of art and creativity with the cause of supporting transgender lives. "It sounds corny, but this idea of love traveling, I love it. I believe that when we show love and give love, it travels and touches people in places far beyond what we imagine," she says.
#LoveTravels is just one of the many ways Laverne has celebrated her pride throughout her life. A couple of years ago, she was the Grand Marshal of Pride in NYC. Participating in that event brought her right back to the first Pride she ever attended during her third year of college, after she'd transferred from Indiana University to Marymount Manhattan College.
"When I was on that convertible and heard all these people screaming for us, it totally took me back to my first Pride in NYC, watching all the floats go by, feeling overwhelmed by how big it all was and how special it was that these groups — that the whole city, really — sort of shut down to celebrate the LGBT community and all of its diversity."
But with all this celebration of pride happening around her, what does pride really mean to her?
"Pride for me is a number of things," she says. "I think about being a proud, black transgender woman and fully embracing all of those intersectional identity markers. Pride for me is also about the history of LGBT civil rights' struggle in the US that started with the Stonewall Riots in 1969. I think about being a part of that legacy. [Pride] is a lot of things historically, but also very personally, about loving all of myself."