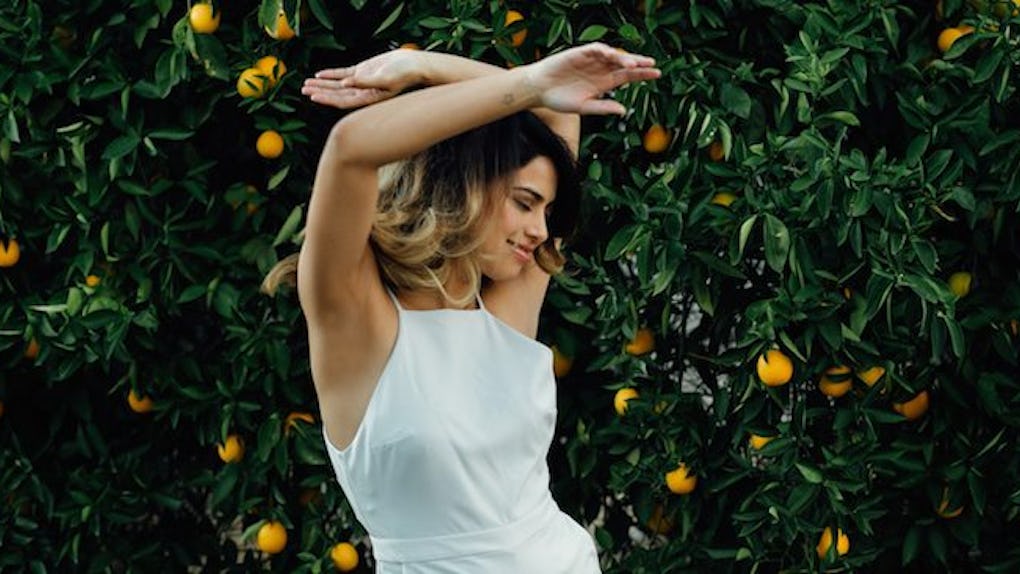 ZOA PHOTO
Best Latin Songs To Dance To In College If You Love Justin Bieber's "Despacito"
Alright, if you've lived anywhere with a working radio this past summer, you've 100 percent heard "Despacito." This hit song, originally released by Luis Fonsi and Daddy Yankee, then remixed with Justin Bieber, has lasted 15 whole weeks on Billboard's Hot 100... and may possibly go further. While it's fabulous to have an almost fully Spanish-sung song played on mainstream radio at a time when tensions are high (especially for Latinx in America), I will be the first to preach that the original is better (sorry, Justin), and I am sick of hearing it. I couldn't be happier that I'm a Spotify user and don't rely on the radio. That being said, there is such a rich pool of Latin songs to dance to that you've probably never heard.
It's time we all stop sleeping on other great Spanish-speaking songs. Plus, actor John Leguizamo just wrote a piece for Billboard about how Latinx are still grossly underrepresented in the media, the "Despacito" snub at the VMAs, and why that's all detrimental to the younger generation: "A youth that must still learn to fill a historic void for itself -- omitted from the history books and omitted from current pop culture." I want a full Latin revolution on the radio waves, because as much as "Despacito" has gotten on my nerves, I love hearing that Spanish beat and language on the regular pop stations in my hometown. So, if you're like me and want to fully embrace this genre (or even dabble a little bit), I've compiled a list of songs to get you on your way for an ultimate college playlist.
1. "Reggaetón Lento (Remix)" by CNCO ft. Little Mix
Using the same tactic as the Justin Bieber remix of "Despacito," CNCO has remixed their hit "Reggaetón Lento" with Little Mix to make this fire song. Much like with Luis Fonsi's song, I much prefer the full-on Spanish original by CNCO, a Latin American boy band. This is such a club jam and can easily help you walk to work or get down in your kitchen.  
2. "Me Rehúso" by Danny Ocean
In true dance music fashion, "Me Rehúso" makes a sad song sound inviting to dance to. The song is about refusing to give up on a relationship after it ends because it was just so good (I think most of us have been there, even if just a tad). But while that is a bit depressing for those maybe just coming out of a relationship, this song really makes you want to dance and yell, "guárdalo!" 
3. "El Perdedor" by Maluma
Maluma's incredible voice is really all that matters on this track. The young Colombian singer has been making waves with songs like this one, "Felices los 4" (something you also need to check out), and another song seen later on this list. That raw voice and the reggaeton beats are reason enough to make this your new go-to song.  
4. "Mi Gente" By J Balvin and Willy William
In my opinion, this is the song of the summer. The beat, the words, the song structure -- literally, everything is brought to the table and makes this the song to listen to at the moment. J Balvin has really outdone himself by starting off with one beat then dropping the bass for a banger that I think should be played at my funeral. "Mi Gente" is all that matters, I don't want to hear otherwise.
5. "Hey DJ" by CNCO
CNCO makes yet another appearance on this list, because they're just churning out jam. The song is literally just a call to your fave DJ to play the best hip-moving music that can get the attention of a girl and create a good time (aka, this song). It also involves two english words, "Hey DJ," so this is great for the club when non-Spanish speakers want to chime in on the chorus.
6. "Chantaje" by Skakira ft. Maluma
When I was abroad in Italy, this was the song to dance to at the clubs. Everyone was listening to it in Italy and Spain at the time, and I was feelin' it. It features Maluma and Shakira who sing so well together and create a song with a rhythm so infectious it's the best party song. It's about wanting someone who isn't all that healthy for you, who is like "pure blackmail" as "puro chantaje" explains, but you cling to them anyway. Despite that somewhat dark meaning, it's a jam for sure.
7. "Hula Hoop" by Daddy Yankee
While listening and dancing to Latin music, it's custom for your hips to just take on a life of their own (especially if you're Latina, it just automatically happens). So Daddy Yankee's song "Hula Hoop" is a call to the circular motion your hips are gyrating to, similar to if you were hula hooping. That's it. The song doesn't have much of a meaning but damn, that beat is good.  
8. "Ni Tú Ni Yo" by Jennifer Lopez
J. Lo is back with a hit on her hands. Fully in Spanish, this song brings island vibes to the United States and delivers another heart-pounding beat. Unlike a lot of other songs on this list, "Ni Tú Ni Yo" is all about the best of what love is. It's natural, spontaneous, passionate, and doesn't give a care about what others think. It's a super cute message and an all-around feel good song.
9. "SUBEME LA RADIO" by Enrique Iglesias ft.  Descemer, Zion and Lennox
The best part of this song is definitely the structure of the lyrics (especially in the beginning) and it's catchy as hell, which is great for all songs. Iglesias brings all of his charm and voice to this song, which adds to the slow burn of the eventual hard beat. Reggaeton is obviously a huge part of this list, and this song is a perfect example as to why.
10. "Hasta el Amanecer" by Nicky Jam
Nicky Jam has a legit anthem in this song, "Hasta el Amanecer." The proclamation of desire is so evident throughout the song and the rhythm drives home how much he wants the woman he's singing to. If you've ever been attracted to someone from the get-go and can't get them out of your head (don't lie, you have), then this is for you. This is excellent hip-moving music as well.  
11. "Bailar" by Deorro ft. Elvis Crespo
Just before "Mi Gente" was my go-to song, "Bailar" held that special place in my heart. This Merengue-infused song with a modern dance twist is the best thing to listen to at the club. The best part doesn't even have words and is literally the only "chorus" you need. It hits hard and goes even harder as the song continues. Deorro makes a fist-pumping jam that really helps while cleaning, moving in, or just messing around in your kitchen.
12. "Safari" by J Balvin ft. Pharrell Williams, BIA, Sky
Of course J Balvin is on the list again, this time with a song that's a tad less upbeat, but just as good. Pharrell Williams not only produced "Safari," but sings the chorus as well. It has all the makings of a great song and has that repetitive beat that would make it a contender for the Top 40 chart (you know, once America fully embraces Latin music).
13. "La Bicicleta" by Shakira and Carlos Vives
"La Bicicleta" is one of those songs that just begs for you to belt out and pour your soul into. It's fun, happy, and brings good vibes no matter where you are. It's not as much of a hardcore party jam as it is a beach or park song meant to fill you with happiness. Weirdly enough, I have heard this in a club in Barcelona and it was still lit; Shakira is inevitably versatile.
14. "Soy Yo" by Bomba Estéreo
This songs is one of those that you didn't know you needed until you hear it, then you wonder, "Where has this been? And how have I lived without it for so long?" Bomba Estéreo, a Colombian band, created a song that begs you to get up and move. It is also super catchy and has an important message; the title means "I am me" or "It's me," and encourages one to throw caution to the wind and fully commit to yourself for yourself. And the video is a must-see for any Latina (#empowered).  
15. "Olvídame y Pega la Vuelta" by Jennifer Lopez and Marc Anthony
You know what a lot of mainstream songs lack? The drama of a soap opera rolled into a three and a half minute song, that's what. But guess what has that? This cover Jennifer Lopez did with ex-husband Marc Anthony. Their voices mesh magically, and the heartbreak can easily be heard in their portrayal of these "parts." Anthony wants back into Lopez's life, and she's not having it (telling someone to forget your name and your face means business). This is more of a fun song, but it's oh-so-great to listen to on car rides, too.