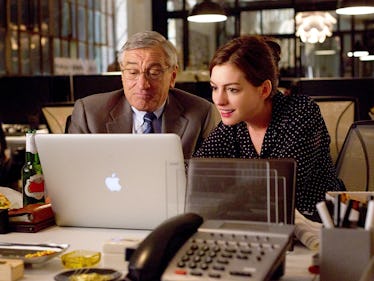 College Grads May Now Have To Compete With This Generation For Internships
Warner Bros. Pictures
In college, you probably envisioned competing with hoards of other students and recent college graduates for internships. Well, the competition could be getting tougher.
College students and graduates may have to start competing with older generations for internships, too.
Did you see that Anne Hathaway and Robert De Niro movie, "The Intern?" If you didn't, basically, De Niro plays a senior intern at Hathaway's bustling young startup.
Well, Wunderlich Kaplan Communications, a PR company based in New York City, is bringing that plot to life and actively hiring older people for internships.
The company is calling its program the "Enternship." It's a six-week, paid opportunity for women in their 40s, 50s and 60s who are no longer in the workforce, but want to get back in it or try something new. It's a great opportunity for those who have taken time off to raise families to get back to work.
From a company's perspective, hiring interns from older generations makes perfect sense. They have years of experience and knowledge under their belts.
The reason Wunderlich Kaplan Communications is doing this instead of hiring Millennials for internships? According to Gwen Wunderlich, the company's president, Millennials have too much happening on the side, resulting in less focus on the job. She also knows recent graduates don't necessarily want to be working in an office. Being an entrepreneur herself, she gets it.
For Wunderlich, this is also a way to help a whole different demographic that doesn't get the attention Millennials do in terms of professional opportunities.
It's estimated that today in the United States there are upward of 3 million women who have advanced college degrees [who are] trying to re-enter the workforce. We can't help all 3 million, but if we can help just these eight women we are starting with, we'll be happy.
Wunderlich Kaplan Communications isn't the only company hiring interns who aren't Millennials. It just goes to show that being young, hungry and fresh out of college might not be the best selling point to land internships.