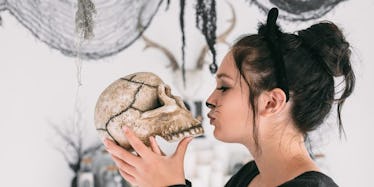 29 Instagram Captions For Your Halloween Costume To Put A Spell On Your Ex
Show of hands, who's been ready for fall since the first snowfall last year? OK, good, we're on the same page... the page that agrees that fall is the best time of the year. There's the changing of the beautiful leaves, layering sweaters, visiting pumpkin patches, and of course, Halloween. If you haven't been somewhat excited for Halloween this entire summer, WHAT IS WRONG WITH YOU?! It's the one time of year where you can dress up like something magical, dance around with friends all night long, and eat candy without feeling guilty your dentist is going to yell at you. It's always a quality opportunity for some bomb AF Halloween Instagram captions for your costume.
If you're terrible at coming up with a great caption, you're not alone. We all know the caption is arguably almost as important as the photo you post. Your caption is like the toppings on your pizza; it makes your photo come full-circle. Special days like Halloween call for extra-special captions… and sometimes, you just really want to make a certain someone (cough, cough, your ex) jealous. Paired with your epic Halloween Instagram pics, these 29 captions will make your ex as green as the Wicked Witch.
1. "I'm here for the boos." -- Unknown
2. "If you've got it, haunt it." -- Rose Pressey
3. "When we're together, darling, every night is Halloween." -- The Addams Family
4. "You say witch like it's a bad thing." -- Unknown
5. "Happy Halloween, witches." -- Unknown
6. "Something wicked this way comes." -- Something Wicked This Way Comes
7. "It's always Halloween inside my head." -- Unknown
8. "Not every witch lives in Salem." -- Unknown
9. "Witch way to the candy?" -- Unknown
10. "Hey Boo, let's get sheet-faced." -- Unknown
11. "Trick or tequila?" -- Unknown
12. "Witch, please." -- Unknown
13. "This witch can be bribed with chocolate." -- Unknown
14. "Creep it real." -- Unknown
15. "Everything's better with a little magic." -- Unknown
16. "Stay spooky." -- Unknown
17. "Just a wee bit wicked." -- Unknown
18. "It's just a bunch of hocus pocus." -- Hocus Pocus
19. "Pick your poison." -- Unknown
20. "Witch better have my candy."-- Unknown
21. "Resting witch face." -- Unknown
22. "What a haunt mess." -- Unknown
23. "Eat, drink, and be scary." -- Unknown
24. "I put a spell on you." -- Annie Lennox
25. "Halloween reminds me of you." -- Unknown
26. "A real witch is nothing without her ghoul friends." -- Unknown
27. "Boo, Felicia." -- Unknown
28. "Don't make me flip my witch switch." -- Unknown
29. "Double, double toil and trouble." -- Double Double, Toil and Trouble