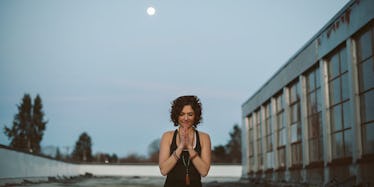 How To Use The Magic Of The Moon To Channel Your Inner Sex Goddess This Summer
Prepare for an extreme heatwave coming your way, because this summer is looking super steamy in the love department.
There's something about the summer that naturally excites new possibilities in us all. If you're longing to make those sparks fly with a new crush, or if you want to open your heart up to a potential relationship, this season is the prime time to go for it.
Grab your bae, be prepared to heat up those sheets, and make your wildest dreams come true.
Elite Daily spoke with New Jersey-based professional astrologer, Kathy Biehl, and let's just say our love horoscopes are going to heat up pretty quickly as we welcome those summer feels into our hearts.
Mark your calendars, because the solstice on June 21 will set the sultry vibes for the upcoming warm months.
This summer is all about embracing what your heart truly craves. Don't be afraid to listen to it, regardless of whether you're currently in a relationship, or you're getting intimate with a new honey.
Biehl tells Elite Daily,
The solstice chart blends gotta-have-it-level, earthy desires with sweetness, gentleness, and the possibility of honest-to-goodness true love.
All thanks to the Cancer new moon taking place on June 23, a beautiful power will soon awaken your inner sex goddess.
If you're not familiar with new moons, you can harness their energies as you please anytime within three days of when they first begin.
The majority of us will experience the power of a new or full moon (but not a quarter moon).
As for the emotional, sexual, and physical impacts the moon has on us, it all banks on your sign.
A water moon (including Cancer, Scorpio, and Pisces) arouses emotion, while an earth moon (Taurus, Virgo, and Capricorn) is all about welcoming physical, concrete experiences into your life.
Biehl reveals about the Cancer new moon,
It's luring inner sex goddesses out into the open without much work or warning, so even those of you who are normally hesitant or cautious may surprise yourselves. And for people who are already unrestrained, well, prepare to explore territory beyond your wildest fantasies.
Call the fire department, because this season is set to sizzle beyond compare. And if you're all about taking things slow in the beginning, the new moon is casting its magic throughout the entire summer, so no need to rush things.
Biehl continues,
Insistent, long-simmering, and irresistible desires are going to burst to the surface and force breathtakingly bold action. This is not the stuff of casual hook-ups. The skies are pretty much demanding that connections go deep, deep, deeper into intimacy on all levels -- with hearts, minds, bodies, and souls merging with a power, honesty, and completeness like never before.
This powerful force will speed up any long-brewing relationships, and prompt new ones that hold incredible potential.
Although there's no solid rule about which moon phases are the most influential when it comes to your sex drive, this summer is certainly an exception.
Biehl reveals,
Everyone stands to be affected, with every new and full moon revving sex drives and encouraging connections on all levels. The planet that rules our sex drive, action hero Mars, is in the thick of every new and full Moon, from the Cancer new moon of June 23 through the Pisces full moon on September 6, just after Labor Day. This will put courage, gumption, and motivation at our disposal to go after what we want.
Be completely honest with yourself, and open your mind to possibilities of love this summer, because the magic of the moon has your best interests at heart.