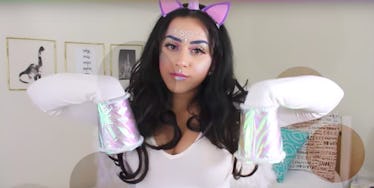 How To DIY A Unicorn Costume, For All Of The Magical Creatures Out There
rosaliesaysrawr/Youtube
The creative costumes that seem to pop up each year take over our social media feeds and get us into the festive spirit of Halloween. For those of you who are not looking to creep the heck out of everyone with some cool skeleton makeup or a white sheet with holes, a magical unicorn is probably right up your alley. Luckily, there are many ensembles to explore for your very own DIY unicorn costumes that won't have you folding your arms in frustration. The easier, the better, but we sure don't mind people thinking we spent countless weeks creating an unforgettable unicorn look that's sure to stand out... or, shall I say, point out? Either way, whether you focus your talents on slaying the makeup, hair, outfit, or all three, being your own unicorn is sure to place you in your own category of awesome. Halloween is about individuality, right?
No two unicorns are alike, partly because no one has seen the same one twice, but leave your own magical mark for any occasion. Shoot, who says the unicorn look is limited to just Halloween? Glitter and glam are basically timeless, so there's always room to slay majestically; just use the upcoming dress-as-you-want holiday as a convenient way to try out these stunning looks.
1. Unicorn Confidence Is All In The Eyes
You can't think of unicorns without recalling the perfectly-assembled pastels that make them stand out. Regardless of which color you predominantly glam up in, the eyes should be fierce. Get creative with it, and don't settle on just one color.
Makeup Geek Eyeshadow Pan -- Wisteria,$6, Makeup Geek
How could you not slay with this shade? This look is sure to make any eye color totally pop and steal the scene. Clearly, that's the point of being a unicorn.
Makeup Geek Foiled Eyeshadow Pan -- Pegasus, $10, Makeup Geek
If there isn't any glitter involved, is it even real? Go crazy with the glitter, because you're supposed to be a magical creature that's incredibly unreal to the naked eye. Glitter does all of that, and so much more.
2. Color Your Vibrant Mane
Unicorn hair is literally your crowning glory when dressing up, or even if you just want to delve into a new look. There are plenty of ways to acquire the style, but a little tutorial couldn't hurt. Even if you're a little hesitant to let your hair taste the rainbow, there are still wigs and not-so-permanent colors available to help you out.
Pravana Chromasilk Vivids, $10, Amazon
3. It's Time To Suit Up In A Tutu, Future Unicorn 
This outfit choice is tutu cute. Use as many colors as you want to make that tutu as decorative as possible. The cool thing about working with tulle is that even if you cut a couple of pieces shorter than others, it still looks cute.
Tulle Fabric, $2.99, Michael's
4. All White Everything
Nothing is more convenient than a one-piece... until, of course, you have to use the bathroom, but let's stay on a positive note. Wearing all white is definitely an easy route to go, and finishing off that tail with iridescent tissue paper is certainly sealing the deal. I mean, a colorful tail like this one will certainly make you want to bust a move.
Opal Iridescent Cello Sheets, $4.99, Party City
Stay creative this Halloween and choose something that's not only convenient but magical to slay the night in. Being a unicorn embodies that, and so much more. There aren't enough thanks in the world for all of the real-life styles the oh-so-admirable unicorn has provided us with.