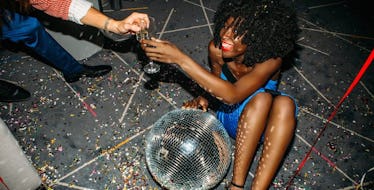 6 Ways To Celebrate Your "Golden Birthday" If It Falls In Your 20s
If your "golden birthday" falls somewhere in your 20s, get ready to let those champagne showers flow endlessly.
For those of you who aren't already in the know, your "golden birthday," otherwise known as your "lucky birthday," or "champagne birthday," happens when you turn the exact age of the day you were born.
For example, if you're turning 21 on May 21 this year, then it's your *golden* birthday.
It's time to break out the gold glitter, and start dreaming of how you'll ring in your own "golden birthday." It's a once-in-a-lifetime experience to relish.
Here are a few ideas for how you can celebrate your "golden birthday" if it falls in your 20s.
1. Throw a gold-everything pool party, obviously.
Don't forget the gold balloons, gold pegasus pool floaties, and gold glitter photo booth, of course. It's your day to go all out, so why not do it up to glam perfection?
2. Have everyone wear black or white, while you rock something gold.
Regardless of how you plan your special day, you deserve a party that's nothing short of spectacular, you golden birthday babe.
Needless to say, it's prime time to break out that gold, glittery dress you've had your eye on. You'll steal the show and have the spotlight shine on you all night long.
3. Plan a lit destination party weekend.
Heck, why not jet off to Las Vegas to make this bash a memorable one?
Get lit AF while you soak up those beautiful rays of sunshine at a rooftop pool party. Rage the night away hopping from club to club, and wake up to a yummy breakfast in bed.
Thank the lawd for room service, amirite?
4. Throw a Coachella-themed birthday bash.
Complete with white tents, string lights, bohemian lanterns, chic pillows, and lots of candles, putting your own spin on Coachella is always a fun idea.
This festival will be stylish, fun, and it'll revolve exclusively around the golden birthday girl -- aka you.
5. Pack your bags and take a cross-country road trip with your girlfriends.
Plan an epic itinerary filled with destinations you've always wanted to check off your bucket list. Round up the girl squad, and hit the road in birthday fashion.
Don't forget to plan a boozy birthday scavenger hunt in all of the cities you visit along the way.
Complete with champagne, chocolate-covered strawberries, and an exquisite view, what's better than this plan?
Let those birthday sparks fly with your other half as you both enjoy a relaxing, romantic escape.