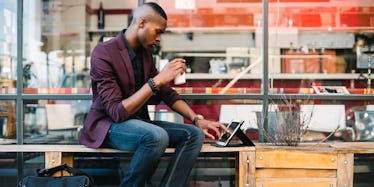 10 Tricks That Prove Finding Your Dream Job Isn't As Hard As You Think
For someone who has spent more days unemployed than employed this year, I eat, breathe and sleep job search tips, online job boards and LinkedIn.
I've spent the better part of 2015 scanning online forums, researching companies and picking up as many interview tips as I can.
Here are 10 things I've learned along the way that can help make the job search much less painful.
For me, these tips are specific to PR, but can really work in any field.
1. Create a list of your dream companies.
Write down a list of businesses, advertising agencies and organizations you'd love to work for.
For me, it made sense to work at an advertising agency.
When I was in my last semester of college, names of advertising agencies got tossed around my public relations classes all the time.
I took note, literally, of agencies in southeastern Wisconsin, and expanded it to the biggest and best agencies in the US.
I kept thinking, "One day, I'll work for a top advertising agency."
Hey, a girl can dream, right?
2. Think outside the box.
If you're a PR or social media pro, an advertising agency is the place to be. But don't get tunnel vision.
After my internships with two advertising agencies, I loved the agency life and was determined to get an entry-level job at an advertising agency.
Then, I saw a perfect communications position at a well-known and respected hospital.
I never would've even thought to apply to a hospital, but even hospitals have in-house PR departments and need recent grads to fill those roles.
I began to look at companies besides advertising agencies, such as interior design and architecture firms, outdoor clothing companies, online magazines, hotels, resorts and even banks.
These weren't my dream companies, but after doing some research, they came pretty close.
Looking at a particular city's top workplaces is also helpful, if you want to work for stellar corporations with a great company culture and awesome benefits.
3. Write down a list of cities you'd love to work in.
As a recent grad living at home, with close friends in Milwaukee and Madison, my searches at the beginning of 2015 consisted of those cities alone.
This is one thing I regret. I wish I would've looked at other cities to start my career.
Don't be afraid of looking or applying to jobs in different cities. If student debt and loans are holding you back, ask a company if they'll pay to relocate you.
If you're on board with relocating, stretch your list to everywhere from Paris to Perth.
Studying abroad and traveling all over the US has helped me narrow down where I want to live and work.
If you're ambitious, write down any contacts you have in the city, your cost of living, major airports or cities nearby and anything else that's relevant.
I also suggest creating a dream board for this to pin on Pinterest or post in your room.
Seeing pictures of the places you want to live in someday can really inspire and motivate you.
4. Establish a list of everything you did for a company while you worked there.
During your internship or job, jot down notes of where your time was spent.
Make notes of assignments you did on a daily basis, any projects or campaigns you contributed to and any original writing or photography work you did.
Then, condense your list into major points to put on your résumé, LinkedIn and online portfolio.
Keep it short and concise on your résumé, but review your accomplishments before a job interview.
The hiring managers will have already looked over your résumé, so wow them by adding information that isn't on it.
Also, ask your employers if they will let you save your writing or photography samples to showcase on your LinkedIn profile or online portfolio.
Having something to show for your work is 10 times better than just saying you worked on a project.
5. Create a hierarchy of the department you want to work in.
When I was in college, every single role in a department meant the same thing to me.
Knowing the hierarchy helped me out so much while I was job searching. I knew which titles to target and which titles were above me.
6. Make a list of the places where you posted your résumé online.
Whether it's Indeed, Monster, CareerBuilder, MilwaukeeJobs, ZipRecruiter, The Creative Group or anywhere else, take note. That way, when you do get a job, you can delete your résumé from the job boards.
Also, make a note of any recruiters who have helped you along the way. A short email to them that states you've found a job will be appreciated.
7. Build a list of all your personal and professional accomplishments.
School projects, side jobs, study abroad trips, leadership roles in college organizations, volunteer roles and freelance gigs all add up.
Hiring managers want to know if you had a life outside school, internships and 9-to-5 jobs, and they want to know what you did to improve those organizations and sharpen your skills. Not everything can be learned in a classroom or internship.
In an interview, you know you're going to be asked, "What's your biggest accomplishment?"
That'll be easy, as you've now got a whole Excel spreadsheet full of them.
8. Write down a list of common interview questions and your answers to them.
After having been on my share of phone, Skype and in-person interviews, I have my "Tell me a little bit about yourself" answer down pat.
Of course, it's been updated over the years. I've gone from a study-abroad student living in Dublin to a writer for an online magazine, a recent grad and everything in between.
I've typed up more common interview questions and answers than I can count. But as tedious as this is, it's made me more prepared.
9. Make a list of career websites and job search tips.
My favorite websites full of career advice are The Muse, Levo League, CAREEREALISM, Fast Company Leadership and Her Agenda.
Instead of making an actual list on an Excel spreadsheet, bookmark career-related tips, tricks and cover letter inspiration on your computer, making them easy to access when you're online.
10. Create a Twitter list.
Or, follow already made lists. Twitter lists aren't dead, especially if you make stellar ones. Every PR professional should have a presence on Twitter (and a strong one, at that).
Twitter isn't just useful when you want to find out trending stories in 10 minutes. If you break up your lists into groups — graphic designers, journalists, photographers, job boards, people who inspire me and others — it will be a lot easier to check out those specific industries and influential people when you need inspiration, career advice or interesting jobs.
The best part is, you don't need to be following the accounts to add them to a list. It's like scrolling down a brand new Twitter feed every time you click on a specific list.
Having a structure in the form of lists can be very helpful when it comes to the job search. The public relations industry can be hard to break into, and job searching can take longer than expected.
Plus, now you have an answer to the interview question, "How do you stay organized?" The answer is by creating lists to help with your job search.
You're welcome.