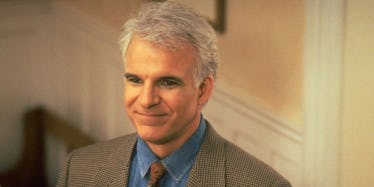 Why My Incredible Dad Deserves A Father's Day To Himself This Year
Touchstone Pictures
This Father's Day, while dads are opening carefully-wrapped boxes containing striped ties and platinum watches, my dad will be by himself behind closed doors.
He will be mourning the anniversary of my oldest sister's death, which occurred on Father's Day, the day before her birthday.
He will shed tears, making it the third known time he has ever done so.
He will not want a free lunch from Pizza Hut or discounted golf attire from Macy's. He will want alone time.
My father is the most selfless man I know.
Beneath his tough soldier exterior is a big fuzzy teddy bear whose weak spots are his three daughters.
He jokes about the struggles of living in a house full of estrogen, but anyone could tell you he would not have it any other way.
His wish for a son went unanswered three times, but instead of raising fragile damsels in distress, he raised warriors.
In the most beautiful love story of all time, my father returned home from West Point, eager to show my mother's mother she was wrong about him and he had turned out to be a good man.
Instead, he met my oldest sister, Tammy. My mother, his high school sweetheart, had turned into a divorcee and a mom, and they skipped no beat falling back in love.
Less than a month later, my father married my mother and adopted Tammy.
He was warned by many about the struggles of being rushed into parenthood with a toddler, but in his words,
"It's not every day you get to choose your daughter. I could have had a son who turned out to be a Patriots fan! No, thank you."
Tammy's presence was unforgettable. She blossomed from a curly blonde toddler into my mother's twin, a pale redhead with a small frame who was constantly pushing her glasses back up onto her nose.
Her Julia Roberts smile shined infinitely, only stopping when she flossed after every bite.
My father raised her as his own, and he never turned away from helping her in times of need.
A few years after Tammy, came MacKenzie, a daddy's girl who spent her nights with him watching "Alien" and playing Pokémon.
He raised her as a gamer, like himself, and she was his shadow at tabletop tournaments.
She traded her dice in for makeup, and he served as an example of the kind of man she should hope to find (even though she never did).
As the baby of the family, I was the princess. My father voluntarily dressed in full costume as my prince to take me to the Renaissance Fair. He supplied my disgustingly large Barbie collection.
And, every Christmas Eve, he stayed up all night playing Santa, making sure my life-sized doll was perfectly perched in her nicest dress for me to find the next morning.
Over the years, my dad has made grueling efforts to ensure we would one day become independent women, independent from him as well as from any other men or women in our lives.
He taught us how to change our own tires. He taught us how to file our taxes.
He sat us down each year, over and over, once again explaining how to budget, how to file an insurance claim and how to set up a savings account to acquire the most interest.
But, those weren't the only lessons. He taught us how to be leaders and how to stand up for what we believe.
He taught us to research something before we act like we know what we're talking about.
He was a perfect example of the traits we should look for in our partners, and every time he supported my mother's art shows or kissed her under the mistletoe (no matter how many times he already had), he reminded us of how we should be treated in a romantic relationship.
Between the three of us, my sisters and I have had a horrendous track record of terrible boyfriends.
Every breakup brought a monsoon of tears and at least five re-runs of "The Notebook."
While my mom would cry with us and be our comfort and our support, my dad would remind us pain heals.
He reminded us that yes, this hurts, but what hurts more is seeing his beautiful, strong-willed daughters with boys who wouldn't even open a door for them. He put us back on our feet every single time.
Our family has certainly been tested. Between my mother's transplant surgery, the complications stemming from that, drug addictions in the family, trouble in school, homelessness and a shocking number of car accidents, my dad has certainly had his hands full.
And, while he absolutely never went easy on us, he did help us. He never dwelled on the past, even if the past was mere seconds ago.
He only cared about the future. Yes, we made a mistake, but from there on out we would know better.
He gave us the tools to clean up our messes and the encouragement to do better and to be better.
Despite the amount of hardships we have faced, losing Tammy to heart failure has made this the hardest year of our lives.
No parent should ever have to endure outliving his or her child. I commend my father for both his strength and his vulnerability.
While I admire his ability to not burst into tears every time her name is mentioned, I am glad he will be taking a day to himself.
He has been an incredible father every single day for over 30 years, and this Father's Day, my family will be giving back to him by giving him space.
Dad, you are the greatest father on this planet.
You treat the women in your life with chivalry, as well as with a sense of equality. You are accepting of every race, gender, sex and disability, and you have never made someone feel like less of a person.
You have raised me and my sisters to be warriors, and you have given us enough wisdom to fend for ourselves (even if we'd rather just have our daddy take care of everything).
You have been the perfect example of a husband, and you have shown us what to expect in a healthy, loving, equal relationship.
Thank you, and happy Father's Day.