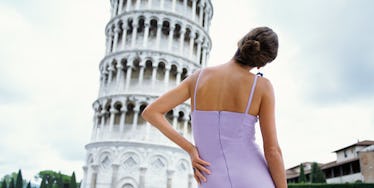 Graduating From College Soon? Maybe You Should Move To Europe
Hugh Sitton
You probably read this headline and instantly thought, "Well hell yea I want to move to Europe," and then you probably followed up that thought with a million reasons why it would never work out. You have student loans to pay, and your family to miss and a cute partner you just started dating.
Forget about all of that!
Well not literally; your family might not be very happy if you forget them, but if you really think you might want to move to another country (which you should because it's amazing), it's completely possible.
I hate the phrase, "I did it so you can too," but I did it and it was crazy difficult and there are still times I think, "why the hell did I do this?" But I'm also living a great lifestyle, and I am so proud of myself for all I've accomplished by moving to another country. Plus, I've gotten to travel all over the world, experienced so many things and met the most interesting people.
So, I'm guessing you want to know how I went from naive college student to happy globetrotting expat who has managed to pay off my student loans, sees my family a few times a year and lives with my boyfriend. The short answer is: a lot of hard work.
I moved to Germany in 2011 to be with that cute partner I just started dating. I found a job as a freelance English teacher working 20 hours a week, somehow navigated getting a residency permit, slowly paid off my student loans and traveled all over Europe for four years.
It may sound crazy, but it was actually easier for me to get a job in Europe than it had been in the US. After college, I applied for jobs for six months without finding something. I moved to Germany and was teaching English within two weeks. This made it much easier for me to pay off my student loans than if I had been in the US working in retail while searching for a real career.
Seeing my family was a bit of a problem, but we always managed to make it work. Because I was a freelance teacher and had a flexible work schedule, I could plan to go visit my family back in the states when the flight prices were the lowest. They also looked at me living in Germany as an excuse to travel and came to visit about once a year. We got to make amazing memories traveling throughout Europe together.
Another amazing thing about living in Europe is it is relatively cheap to travel. Trains are always a good option, and with many discount airlines, it is always possible to get a cheap flight. I once flew roundtrip to Amsterdam for under $30. With the option of staying in hostels, it's so easy to see amazing sights at a low cost. In those four years, I traveled extensively through Germany, Austria, Switzerland, The Netherlands and some Greek Islands.
If you're not convinced yet, consider how young you are. You have your whole life ahead of you and plenty of time to sit at a desk working from 9 to 5. At this point in your life, you have nothing to lose. The world is wide open to you. It's easy to say, "Someday I'll go," but you shouldn't be that person. If you say "someday," it will never come. Once you start a steady career, it becomes more and more difficult to leave all of that behind. I'm not saying impossible, but it's not as easy.
My time abroad has been the most difficult, most amazing time of my life. I've since left Germany in search of some warmer weather, and now live in sunny Costa Rica. If I had gotten a job after college like my peers I never would have gotten to experience so much of this world.
When you move abroad you'll learn a lot about yourself, meet amazing people, see things you've only ever seen in magazines, and discover what is really important to you. You deserve to have that experience. So go! Now is the time to leap.