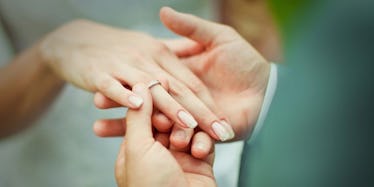 7 Drop-Dead Gorgeous Floral Engagement Rings You'll Instantly Say "I Do" To
kaninstudio/Fotolia
If you're getting engaged to the love of your life, you'll need to find the perfect ring to accent your bridal style. It can be tricky to know what you want when there are so many gorgeous options in the ring world, but eventually, you'll find the perfect fit. Whether your style is classic, modern, or whimsical, consider looking through floral engagement rings to find the right one for you.
Floral rings can come in any metal and can feature stones just like any other ring. They can be fitted to any finger and can bend to any budget. Your band can be thick or thin, and there are still tons of customizing opportunities for the picky bride-to-be. It may take some time and dedicated research, but there are options for everyone deep in the depths of the internet.
Whether you find your ring at the jeweler's or on Etsy, you're sure to fall in love with your floral piece. It's a unique style that can fit almost any trend or budget, so keep your options open. Just because it's not a super traditional ring style, that doesn't mean it's any less special or elegant. Here are seven floral engagement rings that any bride is sure to fall head-over-heels for.
1. Starburst Flower
Starburst Floral Diamond Halo Engagement Ring, $7670, Blue Nile
A starburst style is a more traditional take on the floral ring. Diamonds, or any stones, make the perfect shapes for a starburst, while any metal can make up the band. Many stones are needed to complete this style, so be ready to pay up.
2. Subtle Sparkle
Ivy Scroll Diamond Ring, $1350, Brilliant Earth
This subtle ring is the perfect example of a floral engagement ring in rose gold. The small stones give it that classic sparkle, while the leafy design gives it a more natural look. With the elegant nature-inspired shapes, the detail is sure to catch your eye.
3. Floral Moissanite
Unique Moissanite Engagement Ring 14K White Gold Flower Ring, $2690, Etsy
Substituting a diamond with a stone like moissanite can save you money while still keeping that traditional bling factor. It looks just the same, which accents the metal flowers on each side of the crown jewel. This band is unique as well, which balances well with the heavy body of the ring.
4. Golden Glow
Morganite Flower Engagement Set -- 14k rose gold, $1465, Etsy 
This unique set doesn't have the same look as every other ring. Rose gold creates a look that's more casual, yet super classy. The morganite stone in the center adds to the uniqueness without upping the price of the ring.
5. Something That Makes A Sparkling Statement
Flora Diamond Ring, $2850, Brilliant Earth
For a bride who likes the more natural look, without being overly feminine, a leafy look between diamond bands can be the way to go. This ring has a pretty standard shape, which is great for low-key brides. Pavé diamonds line the upper and lower bands, adding a little sparkle to a piece of golden artwork.
6. Tiny Beauty
Unique Diamond Leaf Engagement Ring, $495, Etsy
If a big ring with a lot of bling isn't your fave, there's still something special for you out there. A small diamond is the perfect accent to this 14k gold boho band. The small center flower and leafy band create a whimsical look that will look cute AF on your finger.
7. Lotus-Inspired
LOVE IN BLOOM - Unique Flower Lotus Rose Diamond Engagement or Right Hand Ring, $4500, Etsy
This lotus-inspired ring features a sparkling center diamond alongside many smaller stones that line the bands. The criss-cross band makes the overall ring thicker and sturdy, but the spaces between them create a delicate look. In this ring, tradition meets modern and floral elegance.