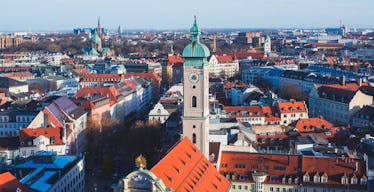 Auf Wiedersehen! 8 Ways Germany Defied All Of My Expectations
Shutterstock
Last year, I was fortunate enough to travel to Europe and explore Germany, London and Paris.
When I first found out about the opportunity, I was least excited about Germany, but not because I thought it would suck.
I had this idea of Germany in my head that made me a little less excited to visit it.
I pictured it as a country stuck in time with big, industrial buildings everywhere.
Thankfully, as soon as I crossed into Germany, my feelings completely changed.
As clichéd as it sounds, I fell head over heels at first sight.
As I continued to explore Germany and its adorable little villages, I fell even harder.
These are just a few of the many reasons Germany became my favorite travel destination:
1. The Scenery
Without a doubt, Germany has the most breathtaking landscape.
Everywhere I looked, it was picture-perfect.
There aren't big, ugly industrial buildings all over.
Instead, there were plenty of open, green spaces with gorgeous views of more mountains, towns and water.
The roads twisted and turned with the mountains, and around every corner was a new view.
Along every mountainside was a different vineyard.
There were rivers beside little towns that were surrounded by more mountains and vineyards.
2. The Villages
Every village was unique, offering different restaurants, shops and activities.
But each one gave me the same cozy, romantic feeling.
The buildings in the villages were also spectacular, and each one was a different color and shape.
3. The Culture
The culture in Germany is completely different from that of America.
Recycling is much more enforced, while alcohol laws are relaxed.
The people are friendly and welcoming.
Everyone wants to have a good time and enjoy his or her day.
The children are so well-behaved. During my entire time there, I didn't see one child getting disciplined.
Everyone seemed so calm.
4. The Castles
There's nothing that can make you feel more like a princess than walking into a grand castle.
Hearing about these castles and actually going into them are two totally different things.
You don't realize just how amazing these castles are until you are standing in front of one, staring in astonishment.
5. The Food
Granted, I didn't experiment too much while I was over there.
But, the food I did have was amazing.
I didn't have one bad meal, and there are literally French fries everywhere.
There are also about a billion ways to serve spaghetti, and Germany has every way.
6. The Gelato
Another treat everywhere is gelato.
It's like Starbucks in New York City: There's a gelato shop on every corner.
There are hundreds of different flavors, and each place tastes different from the other.
Yet, all of it is delicious. The best part is, it's so inexpensive.
I have been on the search to find something close to Germany's offerings, but there's nothing that compares to it in America.
7. The Music
Most of the music I heard was upbeat American pop music, but I also heard some music by German artists.
While I wasn't sure what they were singing, it was all upbeat and happy.
There wasn't a song I heard that I couldn't dance to and that didn't make me smile.
8. The Public Bathrooms And Transportation
This is probably the weirdest thing you could like about a place, but Germany has the cleanest public restrooms and transportation.
Every train I went on looked brand new, and the restrooms looked as if they had just been cleaned every time I went in one.
If you told me a year ago that Germany would be my favorite destination over Paris and London, I would have told you that you were absolutely crazy.
But since visiting, it has become my favorite place, and I would love to go back.
It was nothing like I thought it would be, and it was far more advanced than I believed.
It's not an ugly place at all; it's the most beautiful country I've ever seen.
Thank you to Germany and its wonderful people for making this trip the best one I've ever been on.
Thank you for proving me wrong.