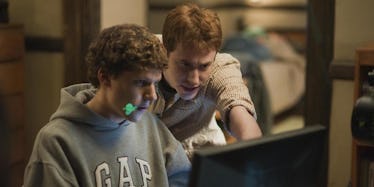 Be Your Own Boss: How To Go From Student To Entrepreneur In 8 Steps
by Alex Wirth & Jonathan Marks
Columbia Pictures
Four days after we graduated from Harvard, we started full-time as cofounders of Quorum, Washington's next-generation legislative strategy platform with a team of 22.
Getting Quorum off the ground took a year-and-a-half of hard work, more than 200,000 lines of code and 24 trips to DC, all while we were both still full-time students.
Despite all the busy days and late nights that have defined our start-up experience since day one, starting Quorum has been a life-changing experience.
It's one we would encourage any motivated undergraduate to pursue.
Here's how:
1. Start with a problem.
In the fall of our junior year, we caught the entrepreneurial bug and started talking about the many problems we might be able to solve together.
One evening, we had a discussion about whether we could use big data to figure out which people members of Congress worked with most frequently.
It was a question Alex struggled with while advocating on Capitol Hill for the creation of a Presidential Youth Council, and Jonathan was able to answer it with his experience building databases and studying protein networks in his computational biochemistry lab.
2. Build a proof of concept.
While having a great idea to solve a problem sets a foundation, the real challenge in starting a company is actually implementing your ideas and helping them grow.
With his computational experience, Jonathan knew identifying close relationships between members should be possible, but how hard it would be to actually build the product was still up in the air.
In January 2014, Jonathan set out to build an alpha version of Quorum, which consisted of a network map of cosponsorship relationships in the US Congress, a printout of who members of Congress worked with most frequently and statistics on their legislative history and effectiveness.
Our initial alpha wasn't pretty. We had to go through by hand and copy the outputted information into slides to create a mockup of what Quorum's Member Profile page might eventually look like.
Our early alpha also led to some nerve-racking moments because we weren't sure if we were right. We had the opportunity to meet with former Sen. Jeff Bingaman (D-NM), for whom Alex had interned.
Quorum's alpha had found that one of Bingaman's most influential issue areas was the Marshall Islands.
We thought it couldn't possibly be correct, but we decided to trust the numbers and show it to him.
Much to our surprise, we were right.
As Chair of the Senate Energy and Natural Resources committee, Bingaman had jurisdiction over the Marshall Islands, so they always came to him whenever they needed something done.
In that moment, we knew we were on to something. The surprising ability of our software to identify trends we had no idea existed showed us that even our buggy, early alpha had promise.
3. Talk with 30 people in the industry.
A lot of ideas are set to fail, and you never know if yours is one of them. So, Alex started calling everybody he knew in Washington, DC, who interacted with the US Congress.
We talked with friends on Capitol Hill, legislative directors at nonprofits and professional lobbyists about their jobs, what tools they used and the problems they faced.
This model is adopted from Steve Blank's "The Four Steps To An Epiphany" and serves not only to validate an idea but also to help you flesh out what exactly you are going to build a company around.
If 20 of the 30 people have a positive opinion of what you are doing, then move forward. If they don't, you need to go back to the drawing board and repeat the process.
4. Enter as many business plan competitions as you can find.
The next step is finding start-up capital and designing your business strategy. We found one of the best ways to do this is to enter as many business plan competitions as you possibly can.
In the past year, we entered Quorum in 26 different competitions.
While writing all these applications took time away from building the product or talking to potential clients, they forced us to figure out exactly what it was we were going to build, how we were going to make money and who our target market was.
While we didn't win every competition, the 13 competitions in which we were finalists or better provided the funding we needed to get off the ground.
We entered the summer of 2014 with $15,000 in the bank from winning the Harvard Innovation Challenge, The Harvard IOP Gov 2.0 Grant and support from the Harvard iLab. This allowed us to fund a team of four that spent the summer developing the beta version of Quorum.
For your business, you shouldn't need more than a few thousand dollars before you begin to hire your first employees.
Even if you don't make enough in early business plan competitions, there are other options.
You can also look to groups like Founder.org, Rough Draft Ventures and Dorm Room Fund for early seed funding.
5. Take advantage of the summer.
The summer between junior and senior year was one of the most productive periods for the company.
We went from having an alpha version to completing a fully-functioning beta.
Yes, we had an incredible development team that put long hours into the website, but we also had the benefit of undistracted time.
It didn't require us to drop out of school or quit our jobs. Our competition money allowed us to cover the expenses of our team.
Had it all failed, we would have spent the summer learning a lot and working on a great idea, and we could have gone back to school to find other jobs.
But, it didn't. We developed a product, and in the fall of 2014, we signed our first client.
6. Stay in stealth mode and stay in school.
Up until this point in the company, we stayed in stealth mode: no public website, no updated LinkedIn profiles and no flashy Facebook or Twitter pages.
Staying quiet about what we were doing was extremely important, as it allowed us to build our company without distractions, including constant communication from people trying to sell us things, reporters wanting to profile the company and people desiring to invest.
All of these interactions are important, but they come in due time. We focused on improving the site and expanding our client list so that when we did launch, we had an incredible roster of paying clients that gave us legitimacy.
We also managed to stay in school while pushing our company forward as far as we could.
7. Launch while you are still in school.
We publicly launched Quorum at the end of January 2015, and the past several months have been a whirlwind.
While we both turned in our senior theses and graduated on time, the impact of Quorum on our lives was astronomical.
Since launch, we quadrupled our client base and turned Quorum into a profitable company.
We have been in 23 different media outlets, ranging from the New York Times to Cosmopolitan.
We have spoken with dozens of investors to make sure we are in a good position, should we ever need to raise money.
Most importantly, we have recruited an incredible team to continue to build Quorum this summer and into the foreseeable future.
8. Run your company.
Once you have gotten as far as we have, you'll have something valuable, and you should absolutely go do it full-time.
We both turned down other offers to pursue Quorum, and while it is undoubtedly risky, we have learned a lot and have an incredible opportunity to create something meaningful.
Our path forward won't be easy, but our team is ready for the challenge.
Alex Wirth and Jonathan Marks are the cofounders of Quorum.