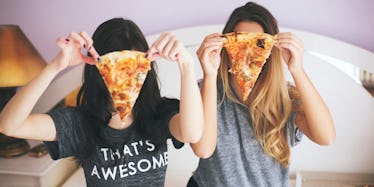 Are You Sweet Or Savory? What Your Favorite Flavor Says About You
I firmly believe there are two kinds of people in this world: people who love sweet food and people who love savory food.
I honestly have never met anyone who loves both types equally. If I could count the number of people I've met who told me chocolate just isn't their "thing," I'd be out of fingers and toes. (By the way, how the hell can you not like chocolate?!)
In my experience, you're either the girl who cries into a box of chocolate after a breakup (me) or the girl who eats her way through a Big Mac and fries. Either way, "Heartbroken You" ends up fat and sad, but I digress.
I always seem to go for Hershey's Kisses, Reese's peanut butter cups and Starbucks Venti mocha frappuccinos when I want a treat. Sometimes I'll even opt for a bucketload of sugar for dinner instead of real food. It just satisfies me.
Hungover me does the same. Greasy breakfast doesn't cure my post-drinking woes. Chocolate bars dipped in hot chocolate do.
I've always wondered if there's any sort of connection between the foods we prefer and the kinds of people we are. My best friend, for example, is a little salty around the edges. She's a bit of a cynic, but she has a gentle interior. She also has a permanent can of Pringles on her desk.
I, on the other hand, see the world through rose-tinted glasses. I also happen to live exclusively for chocolate: white, milk, dark. You name it, I eat it.
Could it be a coincidence, then, that I -- the so-called "sweeter" of the two of us -- reach for the sweet stuff, while my more realistic BFF reaches for the chips and guac?
The American Psychological Association conducted a study of 55 college students and rated their affinities for 50 different foods in the five major taste types: sour, sweet, bitter, spicy and salty. The researchers found that the students who liked sweets had a higher level of agreeableness, which also meant they were more likely to be cooperative, compassionate and amicable.
In another study, 55 undergraduate students were each given a bland cracker, a piece of milk chocolate or nothing. They were then asked to help a college professor complete a task. The students who were fed the sweetened food (milk chocolate) were more willing to help the professor than the students who were fed unsweetened food and those who weren't fed at all.
There's no scientific evidence as to why the sweet-loving students were also the sweetest. Maybe the chocolate lovers felt momentarily energized from their sugar high, which would explain why they'd want to take on an extra task. Or maybe chocolate lovers are just naturally cooler people (ahem), which is the theory I'm going with.
According to other research, salt-lovers like my friend, who chow down on foods like pizza and french fries, go with the flow and have what's called an "external locus of control." In other words, they believe that outside forces like fate -- not their own actions -- determine the path of their future. They take things in stride and don't stress over the bad sh*t because what happens is supposed to happen. Interesting.
As for you spicy food lovers, you're risk takers. But I think you probably already knew that. You're the kind of person to take risks not just in life, but also with food. While everyone else shies away from trying crocodile meat, you gladly take on the challenge because it adds to the list of cool sh*t you've done. Basically, everyone else should aspire to be a little more like you.
For those who like the taste of bitter foods, I have some not-so-great news. It turns out you're the most likely to have psychopathic personality traits. That means that if you like your coffee black or enjoy the taste of beer over wine, you might be narcissistic, malevolent and take pride in inflicting pain on others.
All right, then. Don't mind if I stay away from you guys.
I'm intrigued by the apparent link between our flavors of choice and who we are as people. What's funny is that I've tried to change my tastebuds in an attempt to develop acquired tastes for different foods. I don't want to end up with diabetes (it runs in my family), so I've been incorporating more salty, savory and spicy foods into my diet.
But maybe I'm also subconsciously trying to change the way I look at the world. Because though being sweet is one of my greatest strengths, it also happens to be one of my greatest weaknesses. I tend to let people walk all over me, and that isn't exactly the best quality to have.
I think it'd be too much to be part of a friend group in which everyone is exactly the same. Having friends with varying tastebuds makes for a good dinner groups because though you guys might disagree on which restaurant to go to, at least you know you won't be eating off each other's plates the entire time.
I don't know about you, but that makes me rejoice. I HATE when people steal my food. Especially my overpriced organic chocolate.