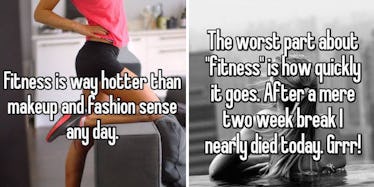 18 Very Real Fitness Confessions We Can All Relate To (Photos)
It's no secret: Exercise is really good for you.
First off, it burns calories.
But that's not all. It also eases anxiety, protects the heart, builds confidence, helps you be more productive and gets the creative juices flowing. And those are just a few benefits.
The truth is, most of us know how important it is to exercise, but actually doing it can be really freaking hard.
So for anyone who has made plans to eat half a pint of Ben & Jerry's (don't pretend you haven't been there), these confessions are for you.
Silencing your critics is a tough job.
Exercising regularly is not easy.
Group fitness really sucks sometimes.
Laziness wins a lot.
It goes quickly.
It's not about being better than someone else.
Naked selfies for the win.
Better sex is good. Better sex is very good.
Ugh, the struggle is so real.
It's not just about exercise.
There's no denying fitness is hot.
Pizza wins a lot.
It feels really f*cking good to be called a fitness inspiration.
Do it for yourself...
...and do it for your love life.
It takes patience.
Do it for the full-body pic.
That feeling when you finally stick it out.
For more fitness confessions, check out Whisper.