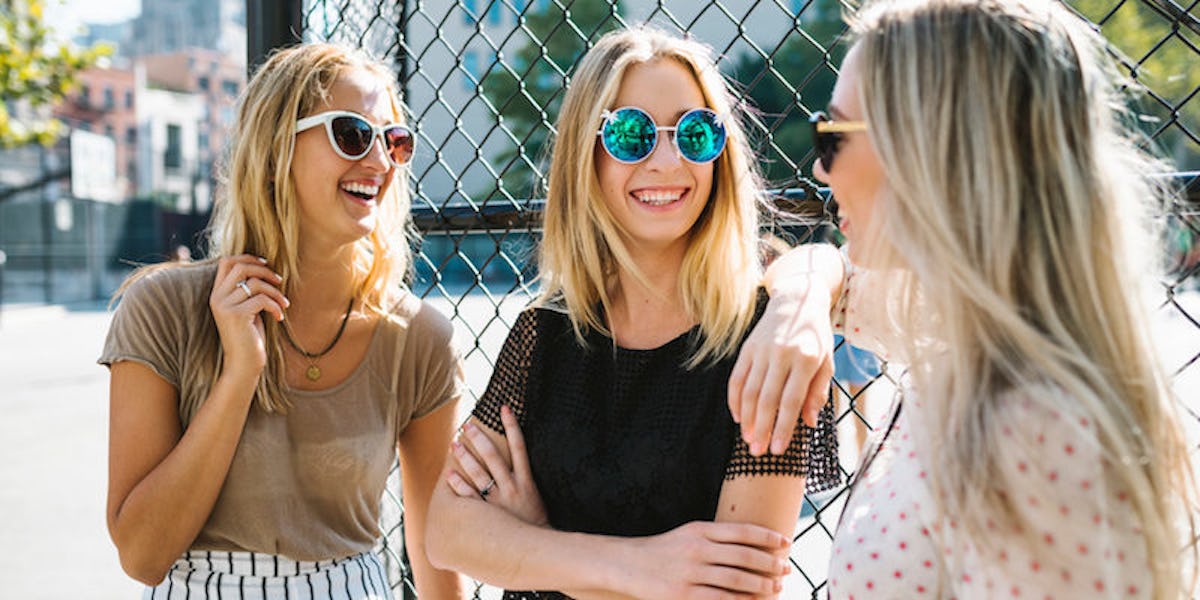 Why You Should Focus On Finding Your Squad Before Getting A Boyfriend
I'm going to be frank: I couldn't exist the way I do without my friends.
This isn't me just being overdramatic; it's the honest truth.
My friends are some of the best people in the world, and finding your own dream team definitely has its perks.
Many people say that "girl squads" are exclusive clubs and contradict one of the basic rules of feminism: inclusivity, not exclusivity.
While I can see that being a major issue, friendship is a learning game.
And like many things in life, it's a game we'll play until we push daisies.
Taylor Swift sets the standard for "girl squads," and while they're all lovely women (and their Instagram posts could make even the coldest of hearts flare with envy), they aren't exactly relatable.
We're all fabulous, but our lives aren't like the singers and models that comprise her group.
In high school, friendships are rather easy to maintain because you'll go to the same school and see your friends all day, every day.
There's no need for much effort to communicate because of you text 24/7 and have after-school dates at whatever food establishment is trending at the time.
When I got to college and had to put major effort into my friendships, it became clear to me who was going to stick around and who was only there to have lunch with me.
College put my friendships into perspective, and I needed that.
My freshman year in college was one of those grace periods where nothing was what I expected, and everything just sucked for no reason.
Most of my closest friends from home went to different schools, but the two who attended my university didn't live nearby.
Eventually, I started hanging out the people who lived on floor above me, and that's when I stumbled upon the holy grail of friendship.
With new friends in hand, I was happier and more willing to be the extroverted person I naturally am.
Looking back, the changes in me were swift and strong.
I think it's necessary to point out that my new friends intensified my best qualities, but they also pushed me to attain new ones.
That's why I'm writing this, and why Taylor is getting so much recognition for her "girl squad."
For the first time, people are really talking about women supporting women, and how life-changing it can be when we come together and inspire one another to strive for the better things in life.
The women in my squad include a video production whiz, an intelligence analysis maven and a dedicated hockey fan.
I have a plethora of ladies to go to when I want to talk about anything, everything and nothing.
They're eclectic, but it's important to note that collecting friends who are different from you isn't nearly the same as finding people who, despite your differences, are willing to be there for you.
With each new accomplishment I put under my belt, my friends are there congratulating me like personal cheerleaders.
I do the same for them because as you grow up, you grow out of that petty jealousy thing.
You stop feeling feels bitter about other people's accomplishments.
And if you haven't, go ahead and work on that.
People are multifaceted and work in strange ways just as the cosmos do, and I like to think that each of my friends came to me because we both needed each other.
Much like your mom told you when you were young, friends come and go, and that may be because you guys learned what you had to from one another.
I never watched "Sex And The City," mostly because I was a child when it was on.
But I always see this quote by Charlotte York floating around that says,
Maybe we can be each other's soulmates. Then we can let men be just these great, nice guys to have fun with.
This premise is valid in that friends are the ones who understand you, and your romantic partners can be put on the back burner for a while.
If you take anything away from this, it should be to support the good ladies in your life.
They can help you reach your ultimate potential.