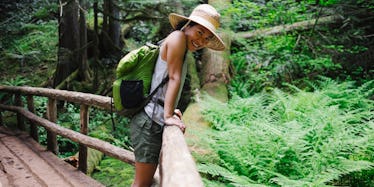 20 Female World Travelers On What They Can't Leave Home Without
We Are SISU
So, you've bought a 65L rucksack to carry your life in for the next six months.
You tell yourself it looks pretty big, so you know you'll manage to squash in everything you want to take. That is, until you're sitting in the middle of your bedroom floor, drowning beneath the contents of your two wardrobes and a chest of drawers.
Packing for any long trip can be a nightmare. But if you're a girl, it's twice as hard. A matching handbag for every outfit and all 18 MAC lipsticks are going to have to be left behind.
You can forget about taking high heels, and you can forget about taking every dress you've ever owned, too. It's just not going to happen.
While you're trying to cram everything into a rucksack, you'll probably pack and repack a dozen times before you're satisfied with whatever you've managed to fit into it.
You'll reluctantly remove your favorite shoes and cry, as you bid farewell to your Mulberry handbag for the next few months.
But we all have that one item we refuse to take out of our rucksack, even when it's about to burst.
I asked my female friends from around the world about their one traveling essential that they simply can't travel without:
I always have to travel with a good hair bobble that's big enough to double up as a headband. In the heat, there's nothing worse than being a sweaty mess of frizzy hair.
— Abi Vincent from Barry, Wales
When I stay in budget hostels, some of the shower drains are gross and full of hair. So I couldn't be without shower flip flops.
— Bex Whelan from Bray, Ireland
I couldn't travel without a good shaver from home. You never know what the quality will be like abroad.
— Mia Bennetzen from Odense, Denmark
Especially if you're staying in a hostel alone, you should carry a doorstop. Put it on the inside of the door, and it stops people from breaking in. Always provides peace of mind when you're in a sketchy place.
— Aimee Craig from Sydenham, Northern Ireland
I never travel anywhere without Tiger Balm; it's amazing. If I'm suffering with anything from mosquito bites to headaches, I'll reach for my little jar of Tiger Balm.
— Hannah Stanley from Manchester, England
I always make sure I've packed my little first aid kit. You always hope you'll never need it, but you never know when you might.
— Lindsay Anderson from Washington, USA
My traveling essential is argan oil. It's amazing for speeding up the healing time of unsightly bruises.
— Murielle Solheim from Bryne, Norway
I love spicy food. Whenever I travel, I take a little bottle of spicy sauce because even if I'm in a country where they eat spicy food, it's just not the same.
— Ella (Shi Xin Ran) from Hohhot, China
I rely on a good lip balm to keep my lips soft when I travel. Drastic temperature changes are no good for your skin.
— Bryony Macauley from Filey, England
I have to travel with a spare pillowcase. It's so multifunctional. Not only do I cover hostel pillows with it, but I also use it as a bag to protect precious items. I always pack it next to my toiletry bag, just in case there are any spills. Better to damage your pillowcase than a nice top.
— Rebecca Kemp from Hull, England
If I know I'm going somewhere in Asia that might not have all of the necessities for a girl, I stock up on tampons before I go. It's so nice not having to worry about not being able to find products out there.
— Taylor Johannesson from Alberta, Canada
I can't travel without my own towel. Especially in budget hostels, since some of them can be a little gross.
— Vanisha Sparks from London, England
I always wear my St. Christopher necklace when I travel. A friend gave it to me as a gift when I set off traveling for a year, and it was the best year of my life. Obviously, it's a lucky token to keep me safe. But, I also wear it as a reminder of how getting out into the world can enrich the soul.
— Laura Chisholm from Sunderland, England
I always take a head torch because you never know what might happen. Maybe you'll find a cave you want to explore, or maybe you'll have to set up camp later than expected. It's always a great accessory to carry.
— Allie Affleck from British Columbia, Canada
You'll always find a packet of wet wipes in my rucksack. When there's no water in sight, they are essential for cleansing. They're also great on hot days for cooling down, as they're really refreshing. I make sure to keep some in my first aid box too, for cleaning any unfortunate wounds.
— Jenny Greene from Florida, USA
An extra pair of socks. I always carry an extra pair so my feet can feel refreshed after a long hike.
— Angela Anderson from Seattle, USA
I always take my water purifier. It's practical in foreign countries when you have no way to buy bottled water.
— Paige Nettland from Ubon, Thailand
I carry a headwrap with me whenever I'm traveling. It's great for keeping your hair out of your eyes in the wind, and it's ideal for covering hair that needs washing.
— Allison Youngblood from Washington, USA
My journal comes everywhere with me. I've written in it every day since I left England, so I don't forget even the smallest details of my adventures.
— Natalie Ball from Washington, England
I always take my neck pillow for comfort on long journeys and uncomfortable buses while moving between cities.
— Sarah Bryan from Sheffield, England
If you're struggling to pack for an upcoming adventure, maybe you can take some inspiration from the women who have already faced packing struggles.
Thank you to everyone who contributed, and thank you to @AlpineBabes on Instagram for putting me in touch with these fantastic female followers.