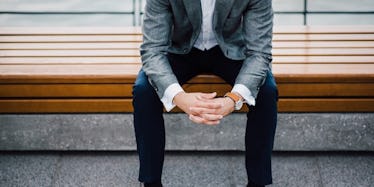 4 Sexy Fashion Items Every Guy Should Have In His Wardrobe, According To A Woman
If you want to make sure you're always presenting the best version of you, then you need to dress for success.
You're probably heard this phrase a million times before, but what you need to remember is it's not just about work -- it's about every aspect of your life.
Whether you're trying to land a new client, catch the eye of a lovely lady or gain the respect of your peers, you're going to want to make sure that you have these fashion pieces in your wardrobe.
An Impressive Watch
You may want to consider purchasing more than one powerfully impressive watch. This way, you can have one that will work well with all of your business attire, and another that will still make a solid statement about who you are, even when you're simply heading out to jog in the park.
A Statement Piece
Every successful and confident man needs a statement piece that will not only look great, but will attract the right kind of attention.
There are some nice options out there for this, but you might want to go with something that's less likely to be seen on a lot of other men, such as a bowtie from Hex Tie. This is a dramatic tie that screams power. It looks like the kind of tie that would make all of the other ties cower in shame and fear, really.
A Dapper Suit
A great looking and proper-fitting suit is key to helping you gain the confidence you need, no matter who you are interacting with.
Even if deep down you're still a little nervous, a properly-fitting suit will make you appear confident -- and that'll, in turn, make you feel better.
Just make sure you're purchasing the best quality suit you can -- never sacrifice your presentation with a poorly-selected suit.
To help with this, you will want to make sure you're allowing a professional to help alter the suit you've selected by taking the proper measurements of your body.
Accessories
You might want a fashionable pair of sunglasses, a chain you can wear while out on the beach with friends or cuff-links that you can enhance all of your business suits with. These may be small accessories, but they should not be overlooked.
You will be surprised at the amount of impact the little things can make in your life. It will show both your business colleagues and women you're interested in that you really do pay attention to the small details in life.
Still having a little trouble envisioning the ways you can enhance your appearance with the right fashions? Find a man that's successful, attractive, powerful and that has a way of getting people to simply gravitate to him whenever he's around.
Check out his style and take notes. With the right effort, you can be that inspiring man, too.