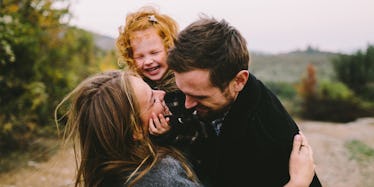 The Weird Things Your Family Portrait Can Tell You About Your Life
We've all been there. Your parents impulsively decide that this Saturday is going to be different because for some reason, immortalizing the time you fail to rock bangs is mandatory. That's right, it's family portrait time.
It could be that artsy, faded beach shot where everyone is wearing an unrealistic amount of white, or it's that department store studio shot in which you must decide on background colors you've never heard of. (Really, though, is "Cyan" even a crayon color?) Regardless, you'd be amazed by how much can be communicated in a simple photograph.
It wasn't until I discovered art history and representation behind photography that I was able to see what was truly happening. From a historical perspective, photography serves as a form of evidence or surveillance, in which we are able to draw concepts and traits from cultures and civilizations in order to construct a narrative or identity for us to understand.
So, what happens when those presented traits no longer fit us individually or the areas of our society? In many occasions, a photographer stages family portraits, indicating who should stand where and where to place your hands. He or she also works out the angles for a candid photo.
We never really assume that these positions may be decided unconsciously out of tradition. But are they? In the past year, I attended a family portrait session, after reading many works on this topic. I was amazed at how many positions I was asked to perform in which I felt as though I wasn't accurately represented.
While my personality would tell you I am assertive, ambitious and strong, I was often asked to stand with my partner's arms around my waist, or stand in ways that indicate I need a man's protection and guidance. I am independent, creative and — at times — a little too competitive.
Yet, as the photographer staged our differing generations, I unintentionally appeared more coy, dainty and submissive than ever before. I either stood enclosed within our group, or I was tucked neatly into the shoulder of my partner during a couples-only photo moment. While the photos turned out well for the most part, I felt as though I barely recognized myself in some of the photos.
Body language is a powerful form of communication, with even a single hand gesture indicating a possible difference in confidence, ability and status. If you research family portraits from previous centuries, you may notice that there is a clear divide when it comes to wealth, status, gender and even overall social acceptance.
In my particular social research, I found that males were staged either above or ahead of the females in historical content. I also noticed that females often stood close together, whereas men (especially powerful businessmen) were given more room and often made the main focus of the photo.
From minor details such as who is looking directly into the camera to who has more space and who seemingly has more confidence, we can draw concepts from these subtleties that allow us to better understand the way society was at the time.
While our society is very different from the generations before us (I can't picture the Victorians using a selfie stick), I sometimes wonder if these minor traits and details in portrait photography could be impacting our society in the present day. We continue to model ourselves after the same people, the same traditions, the same ideas and the same balance of power, even when those categories change or no longer exist.
Don't get me wrong; there is nothing wrong with couples-only photoshoots, or wanting to have a family portrait taken. But what comes into discussion is how they fit each of us individually.
While traditional posing styles may have made sense to everyone in previous eras, how is it that these poses stay the same while our society changes? Sometimes, it can be helpful to be aware of how these little things can impact how we are portrayed, how we internalize modeled behavior and even how we view ourselves.
If we continue to model ourselves after others rather than ourselves, how much fiction is built into our own history due to the pressure to continue traditions? Social psychologist Stanley Milgram once made an excellent observation of "photographic behavior," which is when people shift their behaviors to seem more conventionally acceptable or upholding of traditional values, specifically in front of a camera. What does this say about ourselves?
Photographs are often used to look back on who we are as individuals, whether it's how our hair was at the time, how we developed our sense of self and even how we dressed to represent ourselves accurately. The next time you're looking for that perfect #ThrowbackThursday shot, look through old family photos and keep this article in mind: Do you see what you thought you knew?