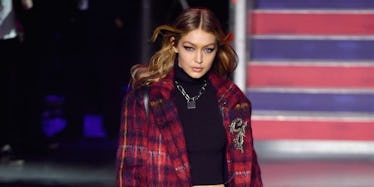 Fall's Hottest Shoe Is A Total '90s Throwback And Our Middle School Hearts Are Full
Getty/Ian Gavan
I remember my first experience with Doc Martens. I was entering the sixth grade, and my older brother had been wearing his Docs for a few months. They were chestnut brown with hazard-yellow stitching, and my reaction to the style was less than favorable (OK, I'll be honest, I called him a construction worker). Then school started, and I promptly realized that all the cool kids were wearing Docs. Well, it's been like 15 years since then and I've got surprising news: all the cool kids are still wearing Docs. And if you want to get in on the sweet late '90s/early '00s throwback, you're probably wondering where to buy Doc Martens for this day and age. That is, if you don't still have a pair in a closet at your parents' house somewhere.
In the past few weeks, It-girls from Bella and Gigi Hadid to fashion week darling Kaia Gerber have been spotted all over the world in Doc boots. Paired with either model off-duty staples or chic matching leather pants, their outfits are walking proof that the old staple has versatility to boot. Gerber, the 16-year-old daughter of supermodel Cindy Crawford, is especially fond of juxtaposing her Doc combat boots with feminine, flimsy little dresses. Basically, you don't have to dress like you did in middle school with Docs today — but if that's your vibe, you'll probably still look current.
While abroad for fashion shows, Gigi somehow managed to make her cherry-red Docs look totally fresh and modern.
And over at Paris Fashion Week shows, Kaia wore her classic black boots with another timeless piece, the leather moto jacket. Like all wildly impractical but impressive dressers, she draped the jacket over shoulders and skipped the arm holes.
For Bella's first look, she went monochromatic with a black turtleneck top, black culottes, and a frayed jean jacket. Her chunky-heeled Docs are the pair we all dreamed of wearing back in the year 2000.
But as a true Doc devotee, Bella doesn't stop with one pair. She sported this pair of flat black Docs with an unzipped track suit and a scrunchie back in July. It doesn't get anymore us-in-middle-school than this.
Needless to say, the resurgence of Docs on cool kids has Twitter shook. Some Twitter users are crowd sourcing the funds for their own fall boots. "Could someone purchase me some cherry red Doc Martens pls?" pleaded @Tay_Kinz.
Others are not so excited for the return. "Breaking in a pair of Doc Martens is literally the most painful thing and I've been in a car accident before," wrote user @clearbandits. Ouch.
That's a legitimate point. If you don't remember breaking Docs in back in the day, it could be rather painful to get the leather to stretch and soften. Your best bet is to wear them for a few hours while at home with socks until they start to loosen up. But don't let that fear stop you, because once they're broken in, Docs are comfortable and sturdy. These days, Docs are available at the Dr. Marten website and can run you anywhere from $75 to $225, depending on the style. And boy, there are some amazing updates to their classic styles.
This pair is on sale for $63 right now, and it's a mash-up of two fall footwear trends: Docs and backless loafers.
Millennial pink and purple lovers may click their heels over the pastel stylings of Pascal with Zip Aunt Sally in Orchid Purple ($140; drmartens.com).
And if you fancy yourself unicorn hooves, take the Rainbow Glitter 1461 ($110; drmartens.com) out for a trot.
And OMG have you seen the crochet "Baby" Docs? They are absolutely adorable, and I wish they came in bigger sizes because they look comfy AF.
While Docs can feel like a splurge, one pair might last you a good 10-15 years, if not the rest of your life. And if the past 20-some odd years have taught me anything at all, it's that Docs are just like guys. They always come back.