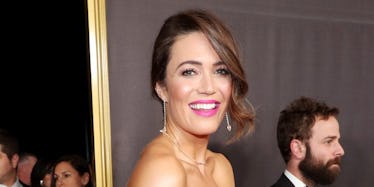 Everyone Is Obsessing Over Mandy Moore's Emmy Lipstick And We Found The Color
Getty/Rich Polk
After Mandy Moore arrived at the 2017 Primetime Emmy Awards red carpet, there were two thoughts on everyone's minds. First, what was she thinking with that dress? And second, what is that lipstick tho? Indeed, Mandy Moore's Emmy lipstick is receiving almost as much attention as her divisive Carolina Herrera dress. And whether they love or hate Moore's Oreo-inspired Carolina Herrera gown, it seems like the great majority of fans are worshipping her bright pink lip color.
Tweets flooded in wondering about the mystery shade. Some fans even took to tweeting Moore directly to ask her to share the poppy-pink wealth. Please Mandy, I'm craving for it like candy, they pressed. Sadly, Moore ignored their pleas, instead choosing to Instagram her Essie "Ballet Slippers" manicure and leave her pout pigment to the imagination. It was frustrating, but after a little light social media stalking, I found a way to go around Moore altogether.
Essie Nail Polish in Ballet Slippers, $9, Amazon 
After some investigative digging, I discovered Mandy's makeup artist Jenn Streicher, who along with hair stylist sister Ashley, is one half of the powerhouse Streicher sister celeb glam team. Along with the skincare brands and makeup tools she used on Moore, Jenn revealed the coveted lip hue on her Instagram account. Bless up for beauty pros who overshare on Instagram.
Velour Lovers Lip Color in French Kiss, $28, Sephora 
The lipstick is none other than Laura Mercier Velour Lovers Lip Color in French Kiss. Described as a hydrating, long-wearing formula with a satin-matte finish, the Velour Lovers collection has rave reviews on Sephora's website. Most reviewers have left glowing reviews, and the tube has garnered an average rating of four and a half stars (out of five), so you know's it's good. Here are some of the reactions to the head-turning shade.
Many on the Twittersphere absolutely gushed over the shade.
Others were not so into the bright fuschia.
Well, to each his own. In addition to the creating the statement lip on everyone's lips, Jenn perfected Moore's million-dollar complexion. The ultra-luxurious Retrouve Skincare's Revitalizing Eye Concentrate and Intensive Replenishing Facial Moisturizer were massaged in to prep Moore's skin. That's right, Moore's skincare for the the evening actually costs nearly $1,000. Damn, Mandy, get it gurl. This Is Us must be paying you pretty well.
Retrouve Skincare Revitalizing Eye Concentrate, $415, Bergdorf Goodman  |  Intensive Replenishing Facial Moisturizer, $445, Bergdorf Goodman 
Products were stippled on with a classic hot pink Beautyblender sponge , so how's that for a high/low beauty haul?
Beautyblender Sponge, $20, Sephora 
Whenever Jenn finished, sister Ashley took over to style Moore's hair into a chic French twist with a deep side part. Inspired to DIY? "Pull hair back, leaving a few front pieces out framing the face, into a messy, yet clean, french twist," says Ashley. "Then simply gather hair to one side, secure with bobby pins, and twist the rest of the hair over it and lock into place with bobby pins. Keep pinning until its locked into place." To keep the style going all night, spray Garnier Sleek & Shine Anti-Humidity Hair Spray all over strands, like Ashley did with Moore's.
Garnier Sleek & Shine Anti-Humidity Hairspray, $3, Target  
Next up for the presenter? Nailing the perfect mic-dropping manicure. Her moon mani was created by celebrity nail artist Michelle Saunders using Essie. "Inspired by the pink tourmaline stones in Mandy's jewelry, I created a subtle nail art look using Essie's classic Ballet Slippers  at the moon topped with Muchi, a creamy pink mauve, on the remainder of the nail. The finished look was soft, yet playful," said Saunders.
Essie Nail Polish in Ballet Slippers, $9, Amazon  |  Essie Nail Polish in Muchi, $9, Amazon 
Overall, Moore's 2017 Emmy look is rife with beauty inspo—especially that fire fuschia lip color I expect to see all over starting tomorrow. So even if a few dramatic viewers are torn over her black-and-white dress, I'd say the night is a win for Moore.