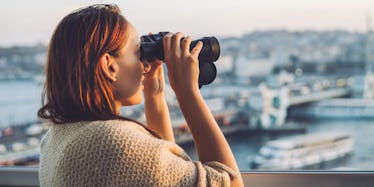 Why You Should Ditch Your Friends In Europe And Study Abroad In Istanbul
Aleksandra Jankovic
When people think of studying abroad, they consider the typical run-of-the-mill places. Many Americans dream of London, Paris or Rome. Many young Europeans dream of California, New York, Shanghai or Sydney.  This is all well and good, and these places are popular for good reason.
When I thought about where I wanted to go for study abroad, I thought practically at first. If I wanted to improve my French or German, France and Germany were possibilities. But deep down, I wasn't enthused by these options. These places are interesting if you're not familiar with the language or culture, but they weren't different enough for me.
When I decided to look through my list of options one final time, I stumbled upon Istanbul. It was the first time I felt that tingle of excitement and desire to travel to a place I had absolutely no concept of.
I hope that if you're considering studying abroad, you decide to pick a place that expands your mind. For me, this best occurs in a place that is dissimilar to one I already know. It's somewhere so unique that it can't be duplicated. That place is Istanbul.
1. The Culture
I think the fact that Istanbul is the only city in the world that straddles two continents – Europe and Asia – speaks volumes about its uniqueness. Istanbul suffers from a somewhat chronic illness of finding its identity after ruling two major empires, falling and then trying to establish itself as the modern Turkish Republic through the efforts of its first president, Kemal Atatürk, in 1923.
Just as Istanbul connects two main bodies of water, it also connects the Eastern world and Western world geographically, mentally and culturally. Discovering the layers, complications and beauty that conglomeration brings to a society and its people will have you longing to understand its rich history and why Istanbul is the way it is.
2. The Food
This blend of cultures is deliciously experienced through its culinary variety. Food in Turkey isn't just a means to stay full, even though it does that extremely well. Turkey's lifestyle is shaped around its eating habits.
Weekend mornings and afternoons are filled with olives, cheeses, cucumbers, fresh tomato paste and fried bread with cream and honey, all of which are included in a typical Turkish breakfast. Çay (tea) seems to be in bottomless supply, and kebabs can be found at every corner.
Street food is unavoidable, and it varies from mussels to roasted chestnuts. I had to stop myself from habitually buying baklava on my way home because of its irresistible allure (and my dangerous sweet tooth).
I could go on about Turkey's food for a long time, but I assure you that it's both delicious and affordable. All you have to do is find authentic, home-cooked places. Then, you've got it made.
3. The People
One of the reasons the food in Turkey is so enjoyable is because of how hospitable Turkish restaurants and cafes are. I think this reflects the genuine hospitality the Turks possess. On my trip to Southern Turkey – in a small town – it became even more apparent.
Turks will make you feel surrounded from the get-go. My roommates were in regular contact with me, always making sure I was OK. The baristas at my favorite cafe even knew me by name.
Not only that, but we also taught one another our respective languages. All this shows how the Turks have such openness and welcoming spirits. They consider you a friend quickly, and they do anything for their friends.
Istanbul demonstrates a collectivist society where care for others is evident, especially by the way in which the people genuinely greet one another. One feels immediately welcome, which is perfect during a study abroad period. It truly helped me open myself up to my new culture.
4. Current Events
I happened to be in Turkey during a time when it arguably held more power in international affairs than it has since its last reigning empire. Though I praise Istanbul, I realize there are many challenges Turkey faces, both politically and otherwise.
Tragedy struck while I was studying there. Within four months, two terrorist attacks occurred, and a ceasefire treaty between the Turks and the Kurds had broken out a few months prior.
But, no country is perfect. In 2015 alone, America suffered 52,769 incidents of gun violence. Today, every country is at risk.
Every place struggles with its own issues, both internally and externally. The key to working effectively on these issues is by educating oneself on the facts. Seek understanding with people of different backgrounds and opinions.
Studying abroad in Istanbul gave me the possibility to immerse myself in another culture, and it helped me better understand world and Turkish politics. At the same time, I discovered the peaceful nature of the Turks I met, the moral standing they possess and their desire to implement this into society at large.
In my opinion, that's pretty significant in and of itself. Istanbul is fun, vibrant and fascinating, thereby making it perfect for anyone out there who is looking for real adventure and the opportunity to grow. It was the best decision I've ever made.