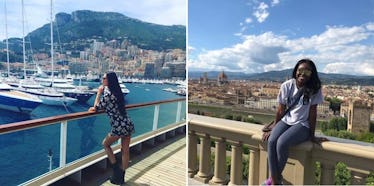 6 Dreamy Cities Across The Globe For The Single Girl To Find Love This Summer
Instagram
Sometimes, a gal needs to jet off to a new, exciting place to gain a fresh perspective in the love department.
More often than not, traveling is a way to conquer life's most difficult obstacles, like how to mend your broken heart after a breakup, or how to expand your outlook on romance. Traveling makes us feel rejuvenated and recharged, and we return home feeling totally fulfilled.
Whatever your reason for traveling may be, it's an incredible experience to cross places you've never been before off your bucket list. And the upcoming season holds so many possibilities for single girls, squads, and avid solo wanderers alike.
If you're hoping to find love this summer, here are six of the dreamiest cities across the globe to travel to.
1. Paris, France
Let those sparks fly this summer in one of the most enchanting cities in the world.
Paris is home to "Le Mur Des Je T'aime," otherwise known as the wall of "I Love You's," which showcases the romantic phrase declared in 250 different languages across a beautiful wall that stretches 416 square feet.
Park yourself by the Eiffel Tower on a cozy picnic blanket with a bottle of fine wine and a delicious baguette, and take in all this gorgeous city has to offer.
2. Monte Carlo, Monaco
Located along the picturesque French Riviera, Monte Carlo holds endless possibilities for your shot at love this summer.
Soak up those warm rays as you lay out on Larvotto Beach, and attend an unparalleled performance at the lavish Opéra de Monte-Carlo.
3. Florence, Italy
The food-gasmic cuisine alone will instantly make you fall head over heels in love with this city. You'll certainly get your fill of paninos and Nutella gelato while you're exploring this romantic destination.
Florence has an endless supply of charm and beauty to offer the single girl and tourists alike, from delicious restaurants and the magical Duomo cathedral, to the Arno River and Piazzale Michelangelo overlooking the city.
4. Bath, England
The city of Bath, situated in the beautiful countryside of southwest England, is famous for its Roman-built baths (aka hot springs).
Filled with remarkable art galleries, architecture, museums, and dreamy parks, this destination will surely feed every single girl's wanderlust.
The city's website even includes sections specifically dedicated to "places to propose," "budding romantics," and "Jane Austen guide to dating." Needless to say, romance awaits.
*Cue Ed Sheeran's "Barcelona"*
Could this view from Parc Güell overlooking the city be any more breathtaking?
Visit the heart and soul of the city, aka the "Barri Gòtic," relish the exquisite Catalan modernista architecture, and savor delicious Mediterranean tapas and wine.
Scotland's beautiful capital features enchanting gardens, festivals held all throughout the year, Crown Jewels, and the grand Edinburgh Castle rising above the city. The romantic architecture and hidden nooks and crannies are certainly an exquisite sight to see in person.