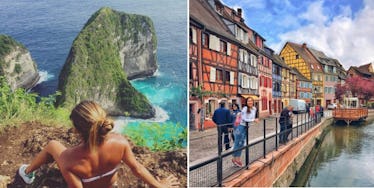 8 Breathtaking Corners Of The World That Will Help You Heal From Heartbreak
Instagram
When you're going through a breakup, sometimes the only way to heal your broken heart is to escape from reality.
You long to pack up your bags, jet off to someplace new and exciting, and table your love life for just a bit.
Living in the moment sounds so refreshing, and you're all about leaving the drama behind so you can soar above the clouds and truly get away from it all.
We've all been there at one point or another. Whether you break someone's heart, or someone breaks up with you, it's one of the most difficult experiences to endure.
If and when you're in need of a dreamy escape, here are eight corners of the world to help you recover from a breakup.
They're simply captivating, and they're sure to take your mind elsewhere…
1. Palawan, Philippines
This exquisite island in the Philippines is what dreams are made of.
Coming in clutch as number one on Travel + Leisure's list of "The World's Best Islands," this tropical paradise boasts white sandy beaches, sparkling blue waters, gorgeous reefs, and an underground river that stretches for five breathtaking miles.
2. Nesso, Lake Como, Italy
This charming Italian village is situated on the crystal waters of Lake Como. Its picturesque stone houses and grand landmarks make for the most enchanting getaway. All you'll want to do is sit back and soak in the surreal beauty all around you.
3. Avignon, France
Avignon is the focal point of breathtaking artwork and incredible culture. There are always festivals taking place throughout the entire year, from the Christmas Market to the iconic International Jazz Festival.
4. Waiheke Island, New Zealand
Waiheke is home to strikingly beautiful vineyards and olive groves. Let's be honest: Who needs bae when you can satisfy your deepest wanderlust desires by sipping wine on a beach in New Zealand?
5. Nusa Penida, Indonesia
Recharge, relieve your stresses, and refocus your mind in this stunning oasis.
Nusa Penida is infamous for its scuba diving and incredible beaches. Immerse yourself in the island's culture, and take it all in.
6. Cabo San Lucas, Mexico
Jet off to Cabo for an unparalleled experience, and celebrate your newly single status with remarkable beaches and a fun nightlife scene.
7. Colmar, France
Colmar is one of those destinations you have to see in real life to believe it actually exists on this earth. It's that beautiful, and it looks as though it popped straight out of a fairytale.
Its cobblestone streets and colorful buildings make this town an enchanting spot to retreat to. Colmar is also part of the Alsace Wine Route, so your palate is sure to be taken care of.
8. Giethoorn, Netherlands
This serene, quiet village in the Netherlands spotlights tiny canals and thatched-roof farmhouses one could simply dream of residing in.
It will truly offer you the peace you need to heal from heartbreak, and you'll leave feeling more refreshed than ever.