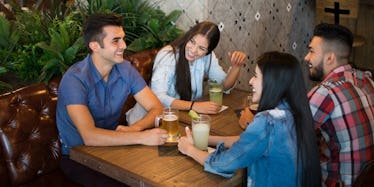 7 Fun Double Date Ideas To Go On With Your BFF And Your Baes
Francesc/Fotolia
When you and your BFF both have boyfriends, it might be difficult at times to plan dates to get together. You have to split your time between bae and your best friend in the whole world, so sometimes, combining date nights is a perfect compromise. There are several double date ideas that are really fun to go on with your BFF and your boyfriends.
A double date should be based on an activity everyone will want to partake in so it's not just one-sided. And let's face it, the double date was probably created as an excuse to be selfish so you can have both your BFF and bae together with you all the time. If all goes well, you could be going on a ton of double dates with your favorite people. What's better than that? I mean, they're two of the most important people in your life, so it's important you also have fun and get along with your BFF's bae, too. You'll obviously still have your individual dates, but double dates are easy ways to have everyone you love together for one fun adventure. When you're looking for some cute double dates you four can go on together, here are seven ideas.
1. Attend A Sporting Event
Even if you're not into sports, you can totally have fun with the awesome food and drinks served at sporting events. Everyone can find something they love at a game, and why not show off your team spirit with a beer in hand? You can tailgate beforehand and get ready for a day filled with fun times with your peeps.
2. Sign Up For A Murder Mystery Dinner Theater
Everyone loves Clue, right? So, why not get in on your own version of Clue by attending a murder mystery dinner? You can all work together to solve who did it. That's teamwork at its finest.
3. Host A Game Night
Game nights are always fun, and four is the ultimate number for most games. You guys can compete as couples, or you and your BFF can school your baes while being on the same team. Let's face it, you're probably a killer team because best friends have a special, irreplaceable connection.
4. Show Off Your Skills In The Kitchen Together
Instead of going out for food, you can all put your skills to good use and make a meal together. Have a sophisticated dinner party, complete with candles, some great tunes, and a yummy homemade meal. Even if you're the one person who can't cook, you can provide the wine.
5. Compete In A Bar Trivia Night
Most bars have a trivia night. Take advantage of that so you, your BFF, and your baes can all compete together to win a round of free drinks. You can all pool your various random knowledge, so you'll cover all your bases. Even if you don't win, you're hanging out at a bar having fun catching up and toasting your brews.
6. Have A Picnic With An Outdoor Movie Screening
Going to the movies is a typical double date, so why not mix things up by attending an outdoor movie screening? You guys can picnic before with lots of fun snacks and wine. You can even play a couple of fun, short card games while you're waiting for the screening to begin. Then, snuggle up with your baes when the movie begins.
7. Take A Day Trip To A New Location
The four of you can fit in one car to take a road trip to a new location. Maybe head over to a nearby town that has some cool tourist stops, or even just a local national park. It'll be fun to get out of town, just the four of you.