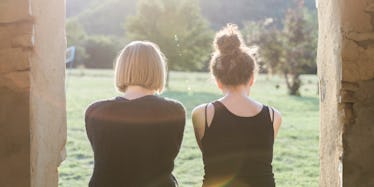 6 Dos and Don'ts Of Being There For Someone Who's Experienced Domestic Abuse
Lior & Lone
At some point in our lives, we've all felt powerless. We've looked at a friend in trouble and had no way to help. More often than not, when someone learns their friend is in a violent relationship, they freeze. What do they say? What do they do? Does he/she even want their help? It's easier to avoid the discussion than say the wrong things, so many people dismiss the conversation.
Domestic violence is more common than people realize. It's important to understand that it can come in all forms: verbal, emotional, sexual and physical. Domestic violence in all its forms is not easy to deal with. People are scarred from the experience; sometimes for a few years and sometimes for life.
As someone who has experienced both sides (the onlooker and the victim), I can provide some helpful tips for being your friend's crutch to lean on.
1. Do: Be supportive.
Even if you sit in silence as your friend vents about the piece of shit they've finally gotten away from, it's sometimes all they need.
2. Don't: Say someone else has it worse.
Even if you think someone really does have it worse, keep it tight-lipped. Whether someone was raped once by their boyfriend or battered and bruised, the experience is traumatizing nonetheless. The last thing a victim needs is to be told their situation "isn't that bad." If it hurt them, the situation is that bad.
3. Do: Pay attention.
Pay attention to anything they say should have been a warning sign. Your friend may mindlessly let you know how you could have helped. If your friend (or you) ends up in that situation again, you'll have learned how to help from the many conversations about their previous relationship.
4. Don't: Tell other people without your friend's consent.
I don't care if you tell your boyfriend everything. I don't care if your sister asks what the latest gossip is. For most, being the victim of domestic violence is embarrassing. It's not something anyone wants to shout from the rooftops or let acquaintances know.
Let your friend tell others as they feel comfortable. You may end up being the only one who knows and that's OK. Keep it to yourself, because it's not your story to tell.
5. Do: Dig deep.
Ask your friend the hard-hitting questions. Why did you stay? When did you know it was time to go? How did you get out? Did you ever talk about it with your SO? These will help your friend really reflect on the relationship and hopefully help them avoid the same situation in the future.
6. Don't: Be insensitive.
Being on the receiving end of domestic abuse is hard enough. Having a friend who is insensitive to the situation makes it worse. If you're anything like me, you take a shitty situation and make light of it. I make jokes to lighten the mood all the time. I make my friends laugh so they don't cry.
This, however, is not appropriate. If your friend sees you making jokes and trying to get them to laugh it off, even with good intentions, they'll pull away.
Domestic violence is a touchy subject for everyone: onlookers, victims and perpetrators. It's not to be taken lightly and many people choose to avoid it. It's so important to talk to your loved ones who have experienced it and help them fill the void.
No one expects you to be an expert, but do your research. Look online for ways other people have gotten through to their friends and lend a helping hand. Not everyone needs a professional therapist.
Sometimes a dear friend and a glass of wine is all the help we need.