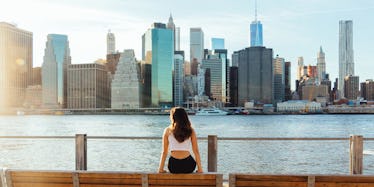 The Year Of Travel: What To Do, See And Eat In 14 International Cities
To travel is to discover yourself in many different places.
You unearth thought-provoking history and create unforgettable memories.
You get to see and experience everything fully.
There's just something about traveling that makes us all come alive, like we're breathing for the very first time against a new horizon.
That's why I wanted more of it this year.
At the end of 2014, I made a promise to myself for the following year.
I set out to see the world I so desperately craved more of.
I decided right then and there I was going to travel at least once every month of 2015.
Then, I bought my first flight immediately.
Now, that's quite a promise to make to yourself in your 20s.
It's quite a promise if you're someone who's just started a full-time career in the real world, is limited by funds and still needs time to breathe.
I'm all of these things, so it was as daunting as it was exciting to set this goal almost a year ago.
There was no trust fund.
There was no sabbatical.
There was no doppelgänger to run my errands or my life.
I was going to figure it out somehow because that's what you do when you're really passionate about something.
I was more passionate about wanting to live out of a suitcase than I was about wanting to sleep in on a Sunday.
So, throughout this year, I've seen a lot, eaten too much, slept not at all, accumulated miles, laughed a ton, cried over turbulence and learned to appreciate the first night back in my own bed.
Now that the year is coming to an end, I only have one trip left.
But here are all the places I can already recommend:
1. Atlanta, Georgia
Must see: Piedmont Park
Must do: Sweetwater Brewery
Must eat: Aria
2. New York, New York
Must do: Statue of Liberty tour
Must see: Brooklyn Bridge
Must eat: Traif
3. Austin, Texas
Must do: Attend SXSW
Must see: The city via Rocket Electrics
Must eat: Any of the 4,000 food trucks
4. Washington DC
Must do: DC Museums
Must see: National Mall
Must eat: Rose's Luxury
5. Madrid, Spain
Must do: Row a boat at Parque del Buen Retiro
Must see: Plazas via a self-guided tour
Must eat: Mercado San Miguel
6. Barcelona, Spain
Must do: Day trip to Montserrat
Must see: Every Gaudí building (especially de la Sagrada Família)
Must eat: 7 Portes
7. Lisbon, Portugal
Must do: Tram 28 up to Alfama
Must see: Fado in Chiado show
Must eat: Pastéis de Belém
8. Tampa, Florida
Must do: Busch Gardens
Must see: Gulf of Mexico via a boat tour
Must eat: Ciro's Speakeasy and Supper Club
9. Orlando, Florida
Must do: Walt Disney World
Must see: Hogwarts
Must eat: Around the world at Epcot
10. Chicago, Illinois
Must do: Architecture boat tour
Must see: Skydeck
Must eat: Mott Street
11. Nashville, Tennessee
Must do: Pedal Tavern along Broadway
Must see: An act at Bluebird Cafe
Must eat: Loveless Cafe
12. Los Angeles, California
Must do: Spend the day in Santa Monica
Must see: The view from the Griffith Observatory
Must eat: Sugarfish
13. Newport, Rhode Island
Must do: Walk along Cliff Walk
Must see: Newport mansions
Must eat: The Mooring
14. New Orleans, Louisiana
Must do: Wander the French Quarter
Must see: Jazz on Frenchman Street
Must eat: Café Du Monde
Throughout this whole year, I kept talking about how exhausted I was from traveling, how much I needed sleep, how I couldn't believe I did this to myself, how catching up on email on Mondays was too rough and how the TSA would soon get the best of me.
Yet, now that the year is coming to an end, I wouldn't have done it any differently.
I'm thrilled to have had the chance to see so many new places, meet so many new people and experience life from multiple vantage points.
What I lost in sleep, I gained in memories.
What I spent in money, I gained in experience.
What vacation days I used, I gained some of the best days of my life.
What I gave up will never compare to what I gained and how I grew.
You should see these cities, too.
I wouldn't have done 2015 any other way, and 2016 has a lot to live up to.