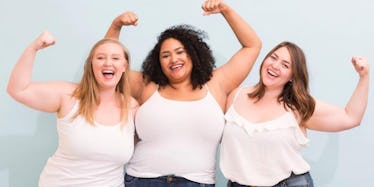 #DiARMy Is the Latest Hashtag To Promote Body Positivity, And We Are Here For It
Dia&Co Instagram
Summer 2017 is full of heat, fun, and body positivity, thanks to hoards of women coming together to celebrate every part of their bodies and to step out of the shame that mainstream beauty standards can cause in women who don't fit the faux physical status quo. Plus-size clothing subscription service, Dia&Co, has decided to encourage women to show off their arms this summer, with the hashtag, #DiARMy," instead of hiding them for fear that someone will judge their size, shape, and movement. We are here for all of this and apparently, so are the women who are participating on social media.
According to the company's blogger partner, Alysse Dalessandro, the idea came to company leaders after receiving feedback directly from their customers.
Dalessandro tells Elite Daily,
They hear a lot of their customers say that they want more jackets and that they don't want things that are sleeveless. It reminded me of a time in my own life when I felt like I had to cover up my arms to be comfortable and it was more about someone else's discomfort with my arms. If it's 100 degrees, you better show those arms and be comfortable.You have to dress for you and wear what makes you happen. Those voices from your past or your friends or online trolls or anyone who tells you that your body isn't good enough the way it is? Tune all of those voices out.
Women seem to be ready to answer that call, as they share their own photos for the #DiARMy challenge.
The CEO and co-founder of Dia&Co, Nadia Boujarwah, shared why the brand decided to start the empowering hashtag this summer in a statement to Mic.
She said,
Many of us have a history of hiding our upper arms even on the hottest of days, which has kept us from rocking sleeveless looks in the past. When we turned to our community to discuss this, we heard that many of our community members related.
Blogger, Jessie Retro, also shared why she joined the #DiARMy movement in a beautiful and heartwarming post.
She wrote,
It kills me the amount of women and girls who will wear unflattering uncomfortable layers just to cover themselves because they "hate your arms." WHY!? Who is it benefiting to have you be uncomfortable and depressed? NO ONE!
Jessie Retro's post was met with supportive comments from other women who relate. One woman even commented with an arm-baring photo of her own, after being inspired by Retro's openness.
Visibility and affirmations like that are what Dia&Co's CEO says will eventually remove the stigma associated with certain arm sizes.
She said to Mic,
I believe upper arms will be anxiety-inducing until we see more images in the media that portray plus size women baring their arms. When you don't see women who look like you, you can feel alone. But once we started talking to our customers and our coworkers, we realized that we weren't alone — and we hope this campaign helps more women feel that way.
May this campaign and more like it continue to uplift plus-size women by making them feel seen, valued, and respected. Keep spreading that body love and join the #DiARMy movement with your own arm photo if you're ready to be loud and proud about your body.
Women are beautiful and worthy at every size. It's time the world acknowledged it.