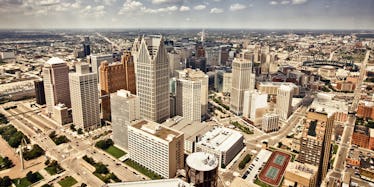 A Millennial Paradise: How Once-Bankrupt Detroit Is Making A Comeback
Shutterstock
What is the first word that pops into your mind when you think of Detroit? My guess? It's most likely "bankruptcy."
The next things you think of are probably violence, segregation, economic implosion, political scandal or the decrepit and abundant abandoned buildings that line the outskirts and cluster the heart of the city.
In 2008, Detroit had the highest murder rate in the nation. The city had been burdened with 40.7 homicides per 100,000 residents.
It was ranked by Forbes as the most dangerous city in America, as there were 1,220 violent crimes per 100,000 residents.
Despite these numbers, the city's crime lab had been shut down in the fall "after an audit uncovered serious errors in numerous cases."
Also, in 2008, there were some 90,000 fires reported. This is double the number of fires in New York City, even though NYC has 11 times the amount of people as Detroit.
Detroit was the "most segregated metropolitan area in the country," and the population diminished from two million people in 1950 to 713,000 in 2012, which left approximately 90,000 buildings abandoned.
Nature had begun to take back the city, overgrowing the remains of a once-booming industrial mecca.
On July 18, 2013, the city of Detroit became the largest city in America to file for Chapter 9 bankruptcy. On this same day, the Dow Jones and S&P 500 hit record highs. How poetic is that?
In the summer of 2013, Detroit hit absolute rock bottom, and there was no denying it. No city had plunged to these depths of darkness before.
Detroit had become a national punchline, something people outside the state of Michigan joked about. It was as if an entire city's livelihood had not just been destroyed.
The numbers stated above are just barely the tip of the iceberg. America had never seen this kind of failure and destruction before.
How did a town that was once proclaimed "the most modern city in the world, the city of tomorrow" fall so far from grace?
The answer lies in the fact that the mayor, Kwame Kilpatrick was serving time in jail following a despicable corruption scandal. It lies within the Big Three, the American automakers who had just stood before Congress to beg for a financial bailout.
At the time, the state of Michigan had an unemployment rate of just over 15 percent, the highest in the nation.
In the city of Detroit, half of the children lived in poverty, and half of the adults were illiterate. Because of this, the unemployment rate in Detroit was estimated to be at 50 percent.
I could go on and on with statistics, facts and stories that would make you boil in anger over how an entire population was failed by its leaders. How an inexhaustible amount of workers have lost their pensions and their livelihoods, or how over half of the city's streetlights were turned off due to cuts, but I digress.
So, you're probably wondering how I can sit here and say this city is going to make the greatest American comeback of our time. Well, Detroit has begun a Renaissance of sorts.
The unofficial pioneer of this Detroit Renaissance is billionaire businessman Dan Gilbert. Gilbert, the owner and brains behind the Cleveland Cavaliers, is also the man who started Quicken Loans, the second largest mortgage lender in the country.
Gilbert has almost singlehandedly put Detroit on the right path. At the end of 2014, he had purchased more than 60 properties for a cost of $1.3 billion. He moved over 12,000 of his own employees into the downtown area, and 6,500 of these people were new hires.
As for those violence statistics I spoke of earlier, the city's violent crime rate "saw significant drops in 2014, mirroring the decline in homicides which likely fell to the lowest total in the city since 1967," according to The Detroit News.
Included in this, robbery fell from 2,836 reported incidents in 2013 to 1,879, a 34 percent decrease, in 2014. As for carjacking, the numbers dropped at 34 percent.
The murder rates per 100,000 residents, the most widely reported of violent crimes, fell from 55 percent in 2012 to 42.9 percent in 2014. All of this, in large part, is due to stepped-up patrols in areas known for violence.
According to Forbes, when General Motors filed for bankruptcy in 2009, there were 48 unoccupied large buildings in the heart of the city. Today, more than 31 of those buildings are once again occupied, with many others undergoing renovation in preparation to be put to use.
In 2016, the expected number of people working downtown will be over 100,000, which is up from 78,000 people in 2010. And many of these new workers are going to be Millennials.
As Millennials, we love a challenge. We thrive on adventure, going against the grain, working hard and having fun while doing so.
While many people in our generation love the idea of moving to NYC, Chicago or Los Angeles, the fact remains that those cities' cost of living is way too high. So, in comes Detroit.
Detroit represents everything Millennials stand for. Our generation is so often looked down upon, so often dismissed. Well, so is Detroit.
The majority of people do not believe in or take the city seriously. To people who don't know any better, it is simply a cringe-worthy sight. But this is somewhere new, something exciting and something rawly authentic.
It's on the right side of living history, a history we can play a huge role in.
This city has everything Millennials could ever want. It's a growing city, just as we are. As we are out trying to find our path in life, so is Detroit.
By moving into Detroit, or working for a company that is based downtown, we are becoming a part of history.
No American city has fallen so far as Detroit, but that also means America has never seen a comeback quite like this. If you are someone who loves a good success story, this is the place for you.
The change in the city is visible, beyond just numbers. Take a stroll through downtown or on Woodward Ave.
Brand new storefronts line the streets with their alluring designs. Breweries, in typical Michigan fashion, have begun popping up all over the place.
Clothing companies, such as Stheart, have put their headquarters in the heart of the city. It has become a haven for start-up businesses run mostly by, you guessed it, Millennials.
If you didn't know, Detroit was the city where techno was created, from where EDM was derived. Because of this, it has a fantastic music scene. Festivals such as Mo Pop and Movement Detroit have made their homes downtown, much to EDM and alternative fans' delight.
And now, unlike in previous years, concerts have made their way into various parks on any night of the week. There is always a chance to take in some great live music.
The Riverfront has been completely revitalized. What was once a crumbling, ultimately depressing, walk has turned into a vibrant park area filled with people and events all week long.
Also, Belle Isle Park, Michigan's 102nd state park, is located in the Detroit River. It is home to three lakes, a zoo, an aquarium, a maritime museum, golf facilities and 150 acres of forest.
Detroit is a city on the mend, and with that comes new opportunities to "go green," something our generation is strongly in favor of. A new streetcar system is currently being installed, which would mean less auto pollution with more people coming into the city via public transportation.
The mayor of Detroit, Mike Duggan, and his fellow leaders, are focused on making the city more green, with the help of economic development.
There will also be trees planted to line the streets, with an expected 4,000 to come from the project, Greening of Detroit.
With that also comes an abundance of locally-grown fresh food sold at farmer's markets. Duggan has made it a priority to clean up vacant buildings and to remove any excess trash or dumpsites within the city.
The biggest source of pride for Detroit has always been their sports teams. The Lions, Tigers and Red Wings are all located downtown, with the Pistons in Auburn Hills.
The Lions and Tigers both have gotten new, top-of-the-line facilities in the past 15 years, and the Red Wings will be opening a new arena in 2017.
This new arena, temporarily being called the "Detroit Events Center," will cost $450 million dollars.
While this price seems steep when talking about a city climbing out of bankruptcy, it is important to know what all this will entail. The Red Wings have a new home, and the immediate surrounding area will become an entertainment district.
This new arena will bring a 50-block area that is also home to various bars, restaurants, clubs, shops, offices and housing developments. In total, the arena and the district surrounding it will cost $650 million, but that comes with an expected profit of $1.8 billion.
Over 50 percent of the construction is going to be done by residents of Detroit, with over 8,300 jobs being created in the process.
Since the arena is being built on Woodward Ave., it will neighbor both Comerica Park and Ford Field, making it a sports lover's paradise.
In 2014, Detroit was voted the Top Sports City in America, and this will only add to that recognition.
Detroit's epic fall was decades in the making, and its rise is no different. This will not happen in a few years, but as long as people continue to invest and believe in it, the time will not matter.
The residents of this city are the hardest working people in the country. They are proud; they are blue-collar, and they will do anything it takes to make it just as grandiose as it was in the years of Motown.
The giant, iron fist of boxer Joe Louis stands in the middle of downtown Detroit. He is undisputedly one of the greatest heavyweight champions in the history of the sport.
If you ever doubt what this city can do, take a moment to stand in front of that fist, and take it all in. There is no better way to represent the strength and determination of a city.
When this comeback happens, do not expect the citizens of Detroit to rise up and say, "I told you so." Do not expect them to brag or knock the cities that will inevitably fall into the darkness of bankruptcy.
No, they will keep their heads down and quietly work just as hard as they always have. Because that is the Detroit way.