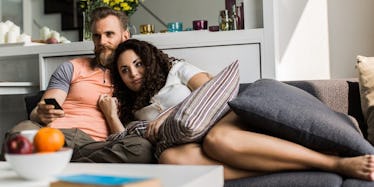 7 Weird At-Home Delivery Services That'll Ensure You Never Leave The House
Mosuno
As if we couldn't get ANY lazier, every single day, people are developing tons of new services that bring everything you need in life right to your doorstep.
So now, more people than ever are staying home instead of physically running errands or wasting precious time shopping.
While some people might consider this lazy, others would say using these convenient services is purely good time management.
But whatever your take on this case may be, here are some weird services you can use that will ensure you pretty much never leave your couch:
So you've probably never aspired to be in a sock club. However, tons of people around the world seem to be opting in... you know, now that it's a thing.
The owners of Sock Club wanted to share their love of socks with the world, and they have set out to curate a whole stock of interesting pairs and designs to share with others.
Before you get too excited, I do have to mention that this service is currently only available in Australia. However, chances are high that they may soon come to a city near you!
These mobile massage therapists can be at your home or hotel in less than an hour to help you work out the kinks in a pinch. Blys' practitioners are certified and screened, and they will supply their own materials, including towels and oil.
Who wouldn't want to get a massage right from their own bed?
Your "time of the month" just got a whole lot better, as Lola is a company that delivers tampons and pads right to your door.
You won't have to worry about running out of the house in a frenzy, trying to grab a box of tampons before it's too late. Plus, the products are made from organic cotton, so you can also feel pretty good about what kind of product you're using.
This is pretty specific, but sometimes, we just decide we want a bit of greenery around our home to spice up our lives.
This club membership will send moss and lichens right to your doorstep, so you can liven up your home interior and keep that oxygen flowing each month.
Each arrangement is handmade and very much alive, so make sure to take good care of your plants once they arrive.
OK, so this doesn't exist quite yet, but rumor has it, Denver, Colorado, will be the first city to have mobile weed delivery.
Just imagine you're sitting at home, playing video games with your friends, and you realize you ran out of weed.
Soon, those living in Denver might be able to get the green stuff delivered right to their door, probably along with the pizza they ordered as well.
Thank God for alcohol delivery! Seriously, why is this a new thing?
I mean, it only makes sense that, after a few hours of drinking, you will inevitably run out of drinks and have to replenish. But for all of us responsible adults out there, the problem is, no one is able to drive to the store and pick more up.
But Saucey will deliver wine, beer, spirits and mixers straight to your doorstep when you're in need.
What makes it even better? They offer popular snacks as well as tobacco products. Basically, they've got your back.
This particular service is pretty awesome because you can get almost anything delivered to your doorstep.
Seriously, no matter what you need — from sex toys to groceries to clothing to baseball cards — this platform lets your order it.
So if you're seriously committed to NEVER leaving your house, this is the one platform you have to try.