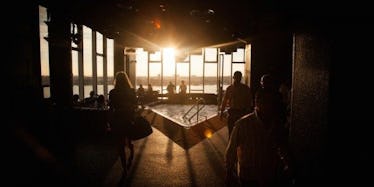 Why You Should Go To College At An Out-Of-State School
Stock
The best thing about attending college is finally getting away from that reign of the "iron fist" in your parents' house. It's the best feeling in the world to know that you finally have the freedom to do whatever you feel like doing without having to worry about what time you have to return home, who you're hanging out with, and being questioned about your whereabouts. However, exactly how far the distance your college is may determine what kind of experience you'll receive in college.
I attended school at Southern University in Baton Rouge, Louisiana for my college education. I caught a tiny case of "home-sickness," but after my first year of college, I embraced the distance from the place I lived my whole life. I loved it when I was away because it helped keep me occupied.
Attending college out of state is an experience that I suggest everybody should experience, whether you're already in college and you have the chance to do a student exchange program, or you're getting ready to finish high school and prepping for college. A lot of my peers I went to high school with wanted to attend college in-state. There was only a select few (who weren't student-athletes) that wanted to leave the nest and live out-of-state.
Truth be told, I think going to a college close to home kills the full experience. Even while I was away at school, a lot of my peers - whether they lived in Baton Rouge, New Orleans, or anywhere further north from Louisiana - would decide to go home almost every weekend. That was such a buzz kill for my experience because everybody was complaining about how campus life was boring.
When you're away from home in college, you get to discover how strong you are while you're away, especially in a different state away from family and high school friends. Here are five reasons why anyone, either in college or preparing for college, should experience going to school out of state.
It opens you up to an entire brand new environment.
Living in Florida and deciding to go to school in Louisiana was an experience that I appreciate to this very day. I had the chance to live in a brand new environment, meet new lifelong friends and to experience the unique Louisiana lifestyle.
One major experience I'm thankful for Louisiana producing is Mardi Gras. If you've never been to Mardi Gras before, I'd suggest you plan a trip to New Orleans from February 28th to March, immediately.
The beauty of going to school in a different state is that you get to see and compare how the people live there to how the people live in your hometown. It broadens your mindset. One thing you have to remember in life is that there's more to it than just what your hometown has to offer. Sometimes it's not where you from, it's where you are.
Being away also helps you become more versatile to different environments, as well. You feel as though you don't just belong in one environment, but rather, you can be like a chameleon and blend into different environments. That right there can take you very far, especially in life after college.
Being away makes you appreciate home while being at home helps you appreciate being away.
Being away from your parents really can help you appreciate them so much more. Of course you might have relatives that live nearby your school and you appreciate them for being there in your times of need, but your appreciation for your family grows fonder within you. You really begin to discover that everything your parents had told you while you were growing up in the household was true.
All your parents were trying to do was look out for your best interest. When times get tough during your days of college, you'll find yourself missing the comfort of being in your hometown with family and friends.
However, when those winter breaks and summer breaks roll around, you'll only enjoy being at home for a certain amount of time before that day comes when you're ready to go back to college living and school hasn't even started back up yet. While it's all good being at home with your family, you'll find that it's better to love certain things from afar.
Meeting people from your hometown while away.
The best thing about going to college in another state is not only will you make new friends in different parts of the world, but also, you'll most likely meet and become friends with people who are from your hometown. When you discover people from your city going to the same school as you, it brings y'all closer together as a unit to rep for your city while you're away. You're actually winning on both ends of the stick.
Sometimes, when coming back home for break, you'll find yourself losing contact with some of your old high school friends. Life pulls you in different directions. However, the friends whom you've made while at school can help you get through those long and depressing breaks when you feel as though you're more of a loner than socialite. The world gets smaller and smaller as we meet new people.
Being away from home helps increase your independence.
The further you are away from home, the more it forces you to be independent. My parents used to always send me a certain set amount of money and I would have to live off that money for a month.
It was tough. There were times when I was able to live off the amount, but other times, I had to think outside of the box when I was about to run of money too soon. It was tough at first, but I was able to maneuver my way through it.
There comes a time when you have to sit back and think over the current decisions you have been making with your money and judge whether or not you're spending wisely or if you should cut back on it. You also have to think about whether or not the time is right for you to decide if you want to have your own earning and not have to worry about mommy or daddy giving you a set allowance every month.
Truthfully told, these reasons can also apply towards going to in-state colleges that are a couple hours away from home. However, I just believe a college experience out-of-state is a much more fulfilling experience, which you can truly value and appreciate.
Plus, it helps you out so much for the future. Everyone needs to experience a little traveling. Why not kill two birds with one stone and go elsewhere to get that education you need?
Top Photo Credit: Getty Images