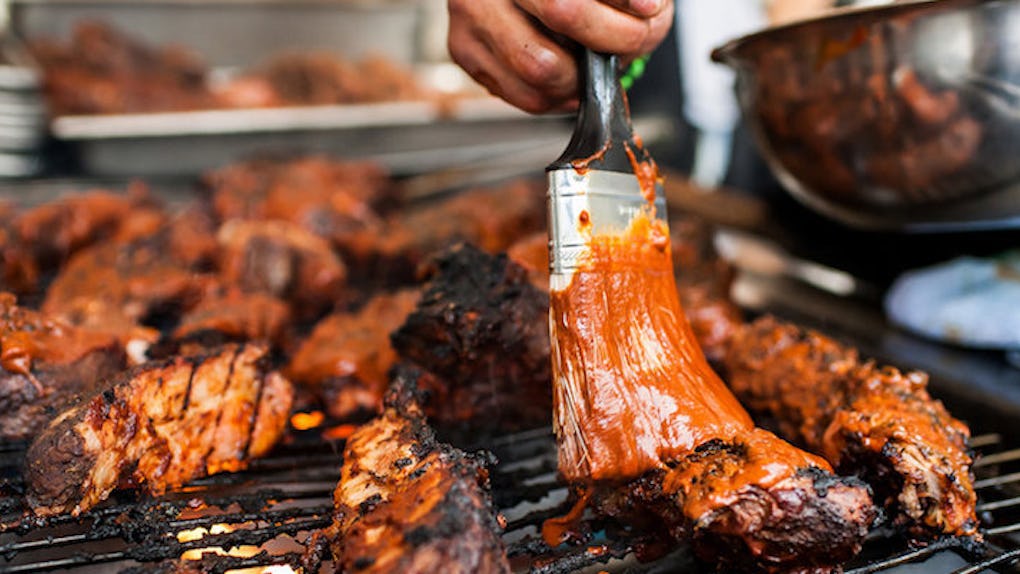 Aubrie Legault
Why Texas Needs To Be Your Next Vacation Destination
Have you ever noticed how people from Texas are literally obsessed with it? When you head to any destination in the state, you see the emblem of the state flag on pretty much every piece of merchandise imaginable.
But then you visit Texas, and you see exactly why everyone is obsessed with it.
Texas has literally EVERYTHING: metropolises, lakes, deserts, hills, beaches, national parks and even something called Cadillac Ranch, which is a collection of old cars buried in sand (look it up, it's amazing).
Turns out everything is actually bigger in Texas — including the lists of why you need to visit.
First off, queso. All of the queso.
I mean, you could choose to just dip your tortilla chips in store-bought salsa for the rest of your days. OR you can take a trip to Texas and discover something life-changing: fresh, ooey-gooey queso. Bowls and bowls of it.
Queso is a decidedly Texas creation. Every Tex-Mex restaurant you go to in cities like San Antonio will have the best queso of your life, all in different levels of spiciness to appeal to every palate.
Breakfast tacos. All of the breakfast tacos.
Before fast food chains started adding this item to their menus, it was a Texas-only phenomenon. But Texas is still the place that does the breakfast taco justice.
Scrambled eggs. Bacon. Chorizo. Peppers. Cotija cheese. Only the best ingredients are stuffed into these breakfast tacos, making it much easier to get up in time to order breakfast.
You know what? Let's just say Tex-Mex in general.
I know we've delved into the finer points of queso and breakfast tacos, but let's just acknowledge that Tex-Mex, which is literally named after the state of Texas, is a prime reason to visit the Lone Star State.
Everywhere you go in Texas, whether it's a nice restaurant, a food truck or a gas station (no, really), you're getting a high quality taco on a homemade tortilla. What could be better? (The answer is nothing.)
San Antonio is taking this favorite cuisine to the next level with something called "Tex-Next," infusing heritage with culinary innovation. Nowhere is this on display more than San Antonio's campus of the Culinary Institute of America, which turns out the city's most innovative chefs. You'll definitely want to make this a stop on your next trip.
San Antonio's River Walk is a gem.
San Antonio is bringing the romance with the picturesque River Walk. At night, string lights and lanterns bathe the River Walk in a certain glow that just screams magic.
After you've fallen in love with the River Walk, you can head over to the La Villita Historic Arts District, which features an adorable collection of pueblos that have been turned into showcases for local artisans. In fact, art is a huge part of San Antonio culture, mixing American and Mexican influences.
Live music is a huge part of Texas culture.
In every Texas city, live music is a constant source of entertainment. Country, folk, indie rock — they all have their place in the music venues of cities like San Antonio and Austin.
And why wouldn't they? After all, this is the same state responsible for producing talents like Selena, Miranda Lambert, Willie Nelson and (the queen herself) Beyoncé.
San Antonio is bringing a dose of history to its music venues, as well. Downtown, the Aztec Theater offers a wide variety of acts, from metal to indie rock, all in a building that is an architectural work of art.
The Alamo lives up to the hype.
San Antonio's main tourist draw is the historic Alamo, and it's a draw for a reason. Every trip needs its throwback fix, and the Alamo is the best Texas has to offer.
Walk around the expansive Alamo grounds to learn about the infamous battle and its participants, as well as get a taste of what life was like in the 1800s.
And if the architecture of the Alamo is something you're dying to see more of, you're in luck. San Antonio is also home to UNESCO World Heritage Missions, a network of five frontier mission complexes including the Alamo situated along a stretch of the San Antonio River basin and built by Franciscan missionaries in the 18th century.
The local drink pickings are incredible.
Texans aren't afraid to show their love of partying. How else are you going to work up the guts to get on that mechanical bull? Luckily, the state makes it really easy to drink locally, with tons of breweries and distilleries. Texas even has a burgeoning wine scene, with more than 40 wineries scattered throughout the Texas Hill Country wine region.
Shout out to a few of the many stars of the local bunch (and my personal favorites), Tito's Handmade Vodka and Shiner Bock beer.
Going out dancing means the two-step, not grinding.
Anywhere else, you go to a club, and you see the same dance moves over and over again. Feet planted in one place, hips moving, arms swaying to the music.
But Texas dancers put everyone to shame. The two-step is intricate and amazing to watch. If you're lucky, maybe a cowboy will even offer to teach you the steps himself.
You'll never know the meaning of barbecue until you've had Texas barbecue.
Sure, in your city there may be a restaurant that claims it has "authentic" barbecue, but they don't even know what they're talking about.
Texas barbecue is out of this world. The brisket will blow your mind. There's a reason the majority of the best barbecue restaurant rankings reside in the Lone Star State.
The barbecue is so good in San Antonio it's even a totally appropriate brunch option. Popular restaurants like Smokehouse are serving brisket like there's no tomorrow every single day. You know it's good when you can smell the mesquite pits from the parking lot.
You're (obviously) going to book your trip to Texas ASAP, and when you do, make sure San Antonio is your first stop.