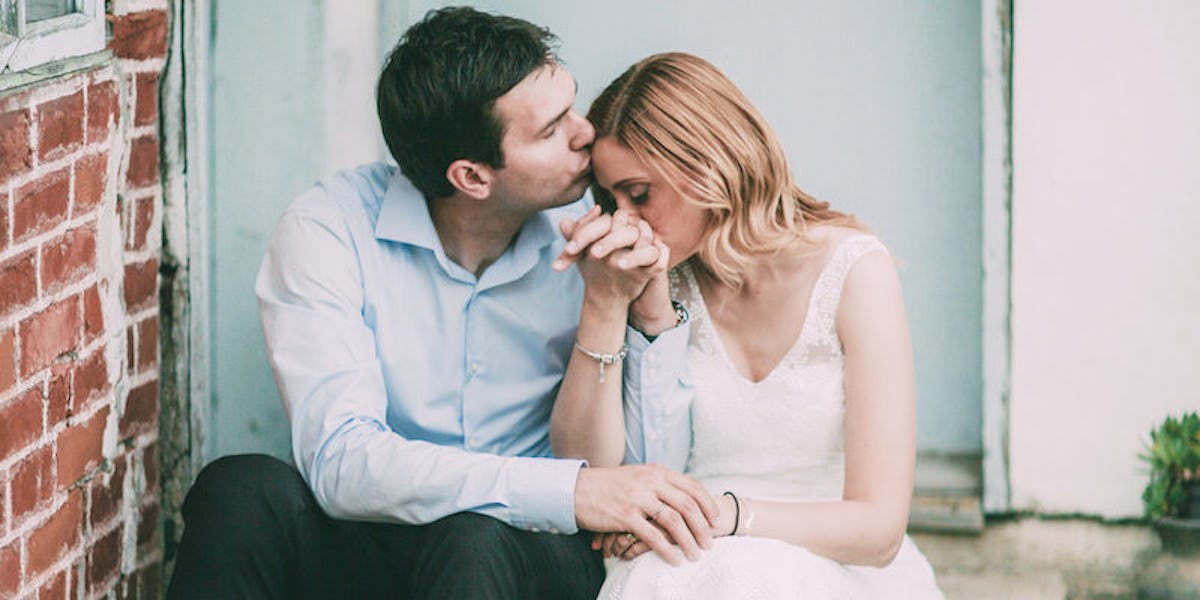 #WhyIStayed: I Was A Successful HR Manager By Day And 'Failure' Of A Wife By Night
In the wake of the Ray Rice domestic abuse news, brave men and women have come forward on Twitter to share their stories. They created the hashtags #WhyIStayed and #WhyILeft.
Their heartfelt, poignant and powerful stories contain hope in a hashtag. Below is the story of a female survivor who stayed in an abusive relationship for years before ending her marriage. She bravely -- and beautifully -- shared it with Elite Daily. 
The year was 2004, and it had been nearly seven years since I said "I do" and married a man who was a solider fighting for our country.
I was 19 and really didn't know him well enough to marry him, but that one simple fact wasn't going to keep me from making the 2,000 mile trip from Kansas to Fort Bragg, North Carolina to be his bride.
The abuse started just after we were married. Drinks were flowing with friends and he began calling me horrible, dirty names. The next morning, he profusely apologized and admitted he didn't remember what had happened. I knew in my heart he was sorry. That's why I stayed.
I stayed because I believed that's what people do. They get married and it's forever. I stayed because I believed that although we had problems, they weren't something we couldn't overcome. I stayed because I couldn't see that what he was doing was abusing me.
His abuse continued to escalate along with his drinking. He nearly killed me in a drunken rage while I drove our car home one night. He had managed to break the windshield of the car while riding in the passenger seat because I had picked him up from a bar too early.
I nearly wrecked the car on the highway. But I stayed because he checked himself into a program and attended AA meetings. I stayed because I saw glimpses of the wonderful man he could be.
He left the military and struggled with his addiction and finding work. The more successful I became, the more his behaviors escalated. I became his punching bag. I was a successful HR Manager by day and a failure of a wife by night. I stayed because that's what I believed.
One fall morning, an employee arrived in my office crying. She had bruises on her face. Her husband, in a drunken rage, had hit her in front of their child.
I fought back my own tears as I quickly realized how eerily similar her situation was to my own. My husband had gotten physical with me the night before as well. I helped her call our company's EAP (employee assistance program). We set up a free session with a therapist. I suggested she call the police. I found her a woman's shelter to stay for the night.
She left my office, and I broke down and cried. I realized that the woman I was helping was me. It was in that moment that I realized I was being domestically abused. I began planning and preparing to leave.
I stayed with him because I didn't think I deserved better. I stayed with him out of fear. I stayed with him because he was in control. I stayed with him because I didn't see any better option for me. The employee who visited my office shed a light on my own abuse. She gave me the courage to leave.
But leaving wasn't simple. He stalked me for months – both in person and online. He knew the law and walked a fine line sitting in my work parking lot waiting to follow me home many times. Years later, he continued emailing me. Through social media, he found out I was re-married and pregnant with a baby.
I share my story so that people can try to understand the point of view of the abused. The choice to leave isn't always so easy when you don't believe that the abuse is happening to you.
Editor's Note: If you or someone you know is a victim of domestic abusive, please do not hesitate to get the help and safety you need. The following organizations offer support — emotional and legal: The National Domestic Violence Hotline, HelpGuide, SafeHorizon and the Center Against Domestic Violence.
You are not alone and most importantly, you do not deserve this.
Photo Courtesy: We Heart It