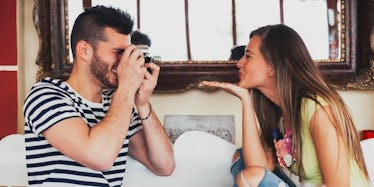 No Filter Required: 7 Types Of Clothes That Photograph Best
Aleksandra Kovac
You know when you spend hours (not to mention a lot of cash) putting together the perfect outfit for a special night out, only to see a tagged photo of yourself the next morning that immediately causes you to regret every fashion choice you've ever made?
Too. Real.
You triple-checked your look in the mirror before you left. All your friends raved about how great it came together. So, where did things go so wrong?!
Unless you have some seriously poor fashion judgement (or some seriously evil friends), the disconnect probably lies between dressing to look good IRL vs. dressing to look good in photos.
Yes, there's a difference — and it's (sometimes) a big one.
Looking bomb on camera is an art form all its own — why do you think celebs look 100x better in red carpet photos than in the tabloids? Stylists make a career out of knowing how to dress their clients so they photograph well.
And because we can't all afford to keep a stylist on retainer, we're going to let you in on the secrets of dressing to look uhh-mazing in pics.
Here are seven types of clothing that make for great photos, every single time.
1. Solids
It's no secret that zany patterns can be, ahem, less than flattering to even the most svelte figures. But in photos? This effect is even more exaggerated. Stick with solids to make sure that the camera captures your best self.
2. Traditional Patterns
That top covered in tropical bird print may look chic on the hanger, but once someone snaps a picture of you wearing it, we promise you'll be singing a different tune.
Steer clear of any print that's busy or cutesy — they'll just end up distracting from your face and making you look wider than you actually are.
Tried-and-true patterns like plaid and stripes (stick with vertical, for obvious reasons) are sure to snazz up your look.
3. Fitted
Repeat after us: No one except for off-duty runway models can make oversized muumuus into a fashion statement. Sorry, but it's true. The same idea applies to dressing for pics: Even if that billowy denim top looks edgy IRL, it's just going to end up looking meh on camera.
And the other end of the spectrum isn't much better. Bodycon dresses and skintight tops leave nothing to the imagination as soon as that flash goes off.
Embrace a happy medium with slim-cut pieces that actually fit you.
4. Dark colors
While you probably (read: definitely) look gorgeous when you wear bright colors IRL, we promise that wearing darker colors will make you look better in pictures. Why? Dark fabrics smooth out your figure and are WAY less likely to get distorted by that pesky flash.
Win and win!
5. Flattering necklines
Choosing the right neckline for your body type is just as important as choosing a silhouette, particularly when it comes to looking killer in pics.
V-shaped necklines and scoop necks look good on pretty much everyone, so you can't go wrong with those. Looking to minimize your bust? Opt for a square neckline. Strapless necklines have a tendency to emphasize broad shoulders, so only go for this look if you're comfortable with drawing attention to your décolletage.
6. Classic over trendy
While we love a good fashion risk (crop top + choker = yes, please!), we also have to admit that sticking to classic pieces for photos is always the best idea.
Choosing timeless looks will help you come off as poised and elegant, not to mention that it'll ensure you won't run into any wardrobe regret down the line.
7. Non-sheer
We've all seen enough red carpet coverage to know better: Don't wear see-through pieces in pictures unless wardrobe malfunction is the look you're going for.
Avoid sheer materials even if you have the proper undergarments — and even if your outfit only looks sheer in certain lights.
You're just going to have to trust us on this one.