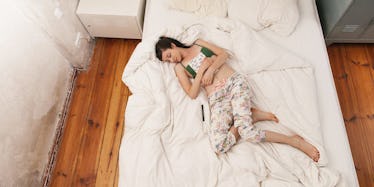 4 People, 5 Places And 3 Things That Make San Juan The Best Vaca Spot
If when you look out your office window all you see are tall buildings clouded by air pollution or, even worse, you're stuck in a cube farm, then I've got the solution for you: Come see me.
Life forces us to take getaways from time to time.
If, for whatever reason, you're in the Caribbean on business or vacation, there's a treasure island you might want to consider visiting called Puerto Rico.
As history would have it, this magical piece of real estate belongs to Uncle Sam, which means you can frequent this paradise as much as you'd like without your passport or the need to exchange your currency.
Think of it as an escape, one that is seemingly far from reality.
You might as well; it's your own exotic backyard.
San Juan, Puerto Rico's capital city, is probably unlike anything you've ever seen.
A former Spanish territory, it now boasts the best of both worlds.
Parts of the city are reminiscent of its former owners from Western Europe, but you can definitely feel the American vibe that reverberates throughout the metropolitan area.
Here are a couple of reasons why you should grab my number and pack a bag:
The People
1. Street Vendors
Let's say you left your place and forgot to grab a snack (we know, it happens). That shouldn't, however, be a cause for concern.
Here in San Juan, there is something to eat or drink practically within a two-block radius of any location. From coffee to bananas, everything's within an arm's length around these parts.
Want to hear something crazy? You don't even need to get out of your car to get your hands on a quick fix. As it turns out, selling items at stoplights is a thing here.
People literally walk the roads in between traffic, especially at intersections, offering anything from water bottles and sports drinks to oranges and avocados.
All you have to do is roll down your window and fork over a buck or two. It isn't exactly legal, but even the cops turn the other cheek. After all, they're the ones buying the doughnuts. Go figure!
2. Tourists
The city brings in tourists by the boatload. San Juan is home to a huge port authority, where cruises from around the world dock for a few hours a day and bring in people from all walks of life.
Most of them scatter around the city looking for fun while wearing straw hats, Hawaiian shirts, alarmingly short shorts and either boat shoes or sandals.
They stick out like a sore thumb; you can't miss them. They make most locals feel like tour guides, but I'm flattered they're here. "Mi casa es su casa."
3. Sports Nuts
I'm going to level with you: The only thing we love more than sports is talking about them.
Metropolitans have plenty to discuss when it comes to athletics, and whether you like it or not, you'll overhear a conversation about some of our favorite stars wherever you are.
The locals take great pride in sports, and (politics and finances aside) it's the one topic that brings the city together.
I've had the pleasure of defending childhood friend and former NBA champion J.J. Barea in chats with complete strangers.
I guarantee you'll end up talking about sports with someone, and it doesn't matter whether you're in a doctor's office, in line at the grocery store or in a government building.
4. Film Crews
San Juan is a mecca for beautiful scenery. Every corner of the city would be an attractive locale for a music video shoot, a TV show or even a blockbuster movie.
Such is the case that the city has been host to projects such as "Pirates of the Caribbean," "Fast Five" and, most recently, "22 Jump Street."
I've been fortunate enough to belong to a local talent agency, which calls me every now and then to participate.
I've had the pleasure of working alongside Justin Timberlake, Gina Carano, Henry Winkler and former Desperate Housewives' star, James Denton. Don't be surprised to find yourself in a traffic jam from a closed down street for filming.
The Places
1. Old San Juan
This is, without a doubt, the most popular landmark in the entire city.
It's the oldest settlement in Puerto Rico and is located in the historic colonial section. It is home to "El Morro," a huge fortress, as well as "La Fortaleza," the governor's mansion.
Among the great things people love to do in Old San Juan is dine out among the many local restaurants, walk the cobblestone streets that still remain to this day, go salsa dancing at various clubs, book nighttime tours, browse art galleries and buy souvenirs.
2. Ocean Park
This is, quite arguably, the most popular beach in the entire city. Located between Condado and Isla Verde, Ocean Park happens to be an upscale yet laid-back community with beach access to everyone.
A small road leads to the most popular spot where people enjoy soaking up some sunrays, parasailing, beach tennis and general relaxation.
If you have a craving to ogle at gorgeous landscapes, then you came to the right place. Truth be told, sunsets aren't the only thing to enjoy at Ocean Park.
The island is a proud owner of five Miss Universe titles, so it's safe to say you'll have fun looking around at some of the most attractive people walking the planet.
3. Plaza Lás Americas
Often referred to as the center of it all, Plaza is the biggest mall in the entire Caribbean.
It accounts for more than 300 stores, a 13-screen movie theatre, 10,000 parking spaces and concierge services. If shopping is your thing, you've definitely come to the right place. Plaza is never empty!
If you want to take things up a notch, I recommend you visit the new Mall of San Juan, located just a few minutes away. Here you'll find premier stores, like Jimmy Choo, Louis Vuitton, Saks Fifth Avenue and Versace.
4. Bebo's Café
When it comes to landmark eateries, Bebo's Café has to be mentioned among the elite. Known for its traditional foods, the cafe is a short walk from many hotels in the Condado district.
Open since the mid-1970s, it went from being a place to eat for employees of the nearby airport to a restaurant for everyone and their mothers.
Lunchtime at Bebo's Café is as jam-packed as you'll ever see a restaurant, and people line up outside to get a taste of the delicious entrées. Trust me: It's worth the wait.
5. Shannan's Pub 
Who doesn't love savoring the best finger food and coldest beer? I know I do! Shannan's is undoubtedly the king of all bars in San Juan.
Just like Bebo's Café, it's been around since 1976 and is currently on its third location. It doesn't matter where it moves; the fan base moves right along with them.
During the day, many people stop by for a quick bite to eat. Come evening time, Shannan's features live music throughout the week, and most recently, it's had big time names like Lacuna Coil rock the house.
On Sundays, it hosts the biggest NFL party the city has ever seen. It's truly an experience!
Things
1. Weather
If you're living on the east coast, midwest or even the pacific northwest of the US, my heart goes out to you.
The climate in San Juan is enviable all year round due to the steady temperatures. They can range anywhere between 73 in the winter and up to 95 in the summer.
2. Cuisine
More often than not, when we set foot in foreign lands, we end up asking around for the best places to eat. Lucky for you, there's a great spot almost anywhere in San Juan.
No visit to the city would be complete without having your eyes roll to the back of your head after a bite of a famous stuffed "mofongo," a huge bowl of "asopao" or some fritters by the beach.
3. Nightlife
When the sun goes down, the people come out to play. San Juan is very well known for entertainment like bars, restaurants, concerts, shows, cabarets, etc.
You name it, they have it. The city has anything and everything you can think of, so you will always be satiated.
Trust me, I can keep rambling on and on about the existential bliss that is San Juan, but I have a feeling I've incentivized you plenty.
Pick up that extra shift at work, or tap into your savings if you have to. You won't know what it's like unless you experience it for yourself.
I'll see you soon.