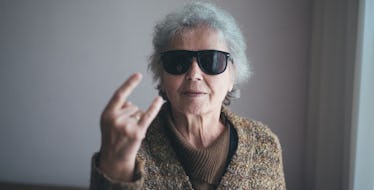 There's Snow Place Like Home: 3 Reasons I'm Proud To Be From Buffalo
Stocksy
Throughout my 21 years, I've learned to let people play the guessing game regarding where I'm from before I experience their predictable reactions to the answer.
"You're from Buffalo? I hear it's really cold there. Doesn't it snow a lot in the winter? Light flurries are enough for me. How do you drive in the snow? It must get slippery." My answer remains simple: "It's really not that bad."
Okay, let me rephrase that; the winter can get pretty bad in the city of good neighbors. And, more often than not, the worst of the snow comes before the dead of winter.
There was the infamous Blizzard of '77 — an October storm — and now, there's whatever you want to call this 7-foot snow monsoon.
You know what makes it not so bad? The fact that Buffalo really is the city of good neighbors. Without such a strong sense of community, there would be little to no chance anyone would be able to brave the storm alone.
After all, how many times in life will you open your front door to a wall of snow so high, it obstructs your view from the sky. People have begun to build tunnels, just to get some natural light.
Also, how many times will you be able to say that you legitimately lost your car in the fluffy white stuff, leaving you unable to reunite for days?
Too soon to appreciate this experience? Well, maybe.
I appreciate being a Buffalo native much more when I'm not physically present for its Internet-breaking conditions (yes, like Kim Kardashian's butt). I won't lie, the bragging rights that this winter storm has given me are slightly humbling.
I mean, Ellen DeGeneres did tweet a personal message sending well wishes to Buffalo. Typing the seven-letter word into Google during the past two days makes me proud to be from the armpit of America.
If it weren't for the white stuff gracing my hometown with its presence, would Buffalo ever make the news? My answer: doubtful.
If a storm like this swept any other area, most would freak out rather than remain calm, cool and collected. Here's why Buffalo — for its awesome disposition on inclement weather and so much else — is great:
Firefighters carried a patient 10 blocks to the hospital.
While watching the snowfall, a resident saw a great act of heroism outside her window. A group of firefighters carried a patient in need of medical attention 10 blocks to the nearest hospital, as no vehicles could get down the road.
Now, that is amazing.
A baby was delivered in a firehouse.
After dropping his son off with his grandmother, Bethany Hojnacki's husband quickly found somewhere for her to have her baby.
On the way, he helped rescue a woman who was trapped in her car, who also happened to be a pediatric nurse. It was clear they would not be able to get to a hospital, so the nurse was able to assist in the birth of the baby girl in a firehouse. Talk about stars colliding.
Snow ripped off family's French Doors.
A family was shocked when they heard a thump and soon discovered that the snow had ripped doors from their house, leaving a massive hole to the outside.
Given that their main fear was that the roof might collapse, this was a slight surprise.
Firefighters arrived to the scene, but only after the mess was already cleaned up. They stayed for a coffee and offered the family to stay at the firehouse for the night.
The family passed up the offer like true Buffalonians, knowing they could stick it out.
I am proud to say I'm from Buffalo, where the grass is mostly white and snow days happen more often than not.