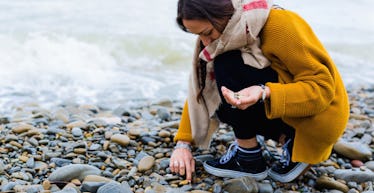 8 Ways To Be Less Of A Grinch And Embrace The Spirit Of The Season
What comes to mind when you think of the holiday season? For me, it's the decorated NYC windows, my overly-adorned Christmas tree, fireplaces and hot chocolate.
But, when you think about it, all of those sugarplum fantasies are only what we hope the holidays are like.
If you're an adult living in our commercialized society, chances are, you're under the stress of the season. This includes worrying about saving money for presents, having enough time to hang lights and wrap gifts, and complaining about busy work schedules.
Being an adult isn't ideal in any situation (let's face it), but this time of year, it becomes even more apparent. In order to take a moment to enjoy the magic, we should channel who we all used to be.
Yes, children.
Think back to past holiday seasons. Everything was built upon excitement and anticipation. It was about visiting Santa at the mall, formulating your wish lists based on Toys 'R' Us catalogs, and eating as many candy canes and cookies as humanly possible.
You liked playing in the snow and didn't have to worry about the hell of shoveling it. Your main concerns were anything but bills, buying and business. It was all about fun, wonder and embracing the spirit. Those were the days.
Of course, as adults, we can't just throw away daily responsibilities for marathons of "Elf" and baking gingerbread men (although, that would be awesome). But, we can remind ourselves of what this time is truly about:
Take a minute to enjoy your surroundings.
Everything becomes more cheerful in December. Wreaths are hung, twinkle lights line houses, and trees are everywhere.
You may be on a mission to get to the office or beat rush hour traffic, but by next month, the decorations will all be gone.
Make yourself a merry little wish list.
Chances are you're so worried about everyone else's wants, you forget about your own. But, just because it's the season of giving doesn't mean you have to feel guilty about getting.
Surf the Internet for sales on those boots you wanted or drop hints about the bracelet you've been eyeing since May. If you've made it on the nice list, you might just get what you've been wishing for.
Take advantage of lazy weekend days.
Finally, Friday has come. But, even though the workweek is over, you might have a million other things to do.
Don't feel guilty about wasting a few hours on a "Home Alone" marathon because it's totally worth doing.
If you're up to it, you can get holiday-crazy and go all out. Cookie dough and wrapping paper are great replacements for laptop screens and legal pads.
Reach out to family.
Yes, the holiday season is the one time of the year when you see old Aunt Betty and cousin Bill. Although you may dread awkward family encounters, they're what the holiday season is all about.
You can reminisce about past holidays or tell them about your totally boring day job. If you talk to your relatives, you might learn something interesting... especially if eggnog is involved.
Have fun with friends.
As adults, you may not see each other as often as you did when you were younger.
You probably don't party as much as you used to, and you might not have the tolerance you once did. But, it's the holidays! Let loose!
Call your friends and ask them to go out to one of those cliché Christmas bar events. You can even host your own ugly sweater party and stock your shelves full of peppermint schnapps and vodka. And, to all, a good night.
Do cheesy things.
What better time than now? Be a tourist; Instagram yourself in front of the Rockefeller Center tree, go ice skating, window shop, see the Rockettes and do the whole nine yards.
Go out and make snow angels. Take a ride on the Polar Express, or if you're brave, go find Santa and snap a selfie with him. You'll thank yourself later.
Give back.
As a kid, you were only concerned about one thing and one thing only: presents. Now, you can help others. There are tons of opportunities to contribute, whether it be a gift, a donation to charity or your time.
You'll feel good and make someone else's season just a little brighter.
Believe.
This is the most important thing of all. Although waiting for Santa to slide down the chimney may be nothing more than a distant memory, there's still plenty of magic all around. You just have to be willing to look for it.