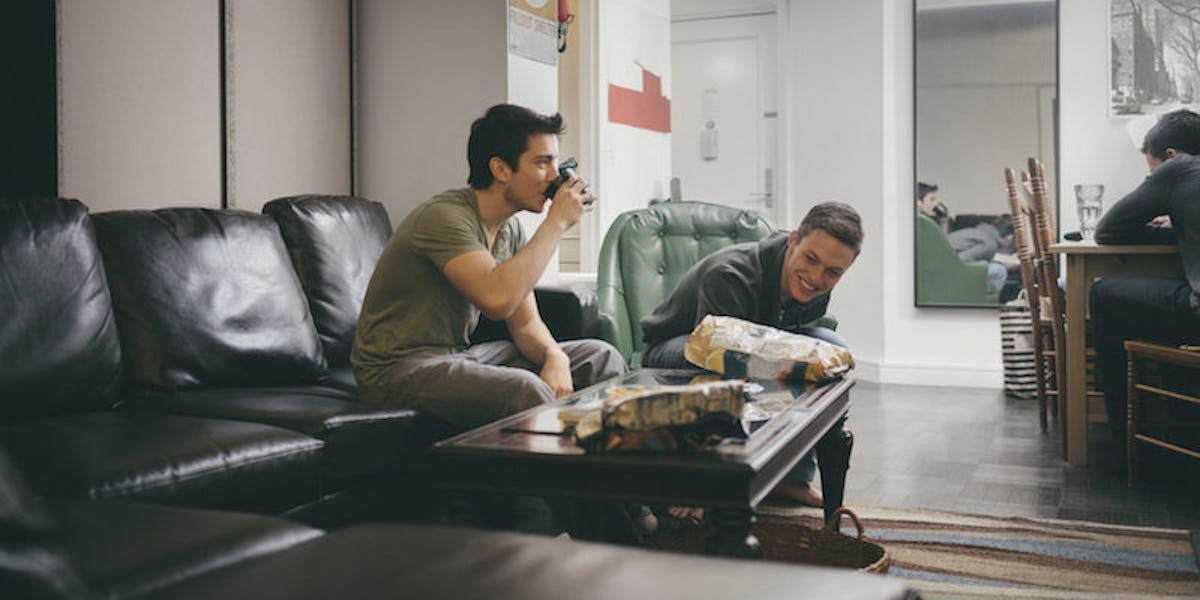 The 10 Best U.S. Cites For Stoners To Live In
Stocksy
Stoner sustainability: it's one of the most pressing issues of Generation-Y today. Why should we have to run and hide our true emotions (from the cops) just to smoke a little pot? Better yet, why can't we find quality buds in our own backyard?
These are all questions millions of Americans are forced to ask themselves everyday. Unfortunately, many areas throughout the country are just dreadful living environments for stoners. They are forced to adapt, conform and hide their true selves when all they want to do is kick back and burn a fat ass blunt.
To those of you who find yourselves in this predicament -- do not fret. There are cities built by the fabric of marijuana to accommodate potheads with everything that they could possibly need. I'm talking strains, munchies, entertainment and more. Don't live the life of a lonely stoner in 2013.
Relocate to a place that you will find true bliss and happiness in everything you do. Come to peace with your inner-soul and discover who you really are... by hitting the bong over and over again. Don't worry about the police, overpricing or anything else that kills your high. Educate yourself and ensure a better future.
These are the 10 best U.S cities for stoners to live in. Be sure to play the song below to enhance your viewing experience.
Oakland, California
Oakland may be known for its violent-stricken areas, but it's the city's acclaimed Oaksterdam University that has them placed on the list. If you are brave enough to make the trek into the city, then you will surely be impressed. The stoner-friendly district of Oaksterdam is known for its weed cafes, clubs' countless dispensaries and even a school for training people in weed. This is where stoners are cultivated.
Signature Strain: Blue Dream
Best munchies: In-N-Out Burgers
Stoner attractions: Take a hit of dabber and check out a Golden State Warriors game
Portland, Maine
The East Coast may not exactly be the friendliest in terms of weed, but Portland, Maine is a haven for potheads everywhere. Not only does it have some pretty good buds -- thanks to the favorable climate -- but the law is pretty lenient and will often let you rock. The relaxed city is the perfect place for any retiring stoner to rest his loins and smoke the days away.
Signature Strain: Warlock
Best munchies: Duckfat
Stoner attractions: Smoke the pipe and go fishing at the bay
Louisville, Kentucky
Kentucky?! Who would think that the Bluegrass State produces some of the most fire bud? The town of Lousiville is more than inviting for stoners who want to live their lives without being persecuted. Over the years, they have developed some of the best culture for weed and that is evident by not only the quality, but the low enforcement control.
Signature Strain: AK-47
Best munchies: Havana Rumba
Stoner attractions: Smoke a blunt and go to Wal-Mart
Boston, Massachusetts
Boston, Massachusetts is one of the most progressive cities when it comes to smoking the green stuff. Where else do they have a "Hempfest," where thousands of people come together to smoke weed at a local park. Buying isn't too difficult either. Because of its location, Boston is an ideal place for bud to get passed through.
Signature Strain: Banana Kush
Best munchies: South Street Diner
Stoner attractions: Smoke a vaporizer and observe history
Boulder, Colorado
Boulder is undoubtedly the most consistent city for weed in the country. You will never be disappointed as this is where the majority of Colorado's buds are born. Why not go straight to the source, right? The calm town is the perfect place for nature stoners to go to get a taste of middle America. Far away from any major city, this is unlike any other stoner city on the list.
Signature Strain: Chocolope
Best munchies: Boulder Baked
Stoner attractions: Hit the bubbler and hunt some wild animals
Seattle, Washington
Located in the beautiful Pacific Northwest, Seattle is another landmark for weed in the United States. With some of the most groundbreaking strains popping up from the area, expect to be smoking on some new sh*t every week. You can burn one down pretty much everywhere you go, especially with the air being so damn foggy. No one would ever suspect a thing!
Signature Strain: Yuckleberry Wow
Best munchies: Dick's Drive-In
Stoner attractions: Smoke a spliff and head to the top of the Space Needle
San Francisco, California
San Francisco is one of the most stoner-friendly cities in America. It's not that big of a deal when you smoke a blunt and some bum with no shirt is hitting the crack pipe next to you. Aside from having an endless supply of dispensaries, you will find some of the richest history and best munchies in the country. And the people of San Fran aren't exactly the sanest. Expect to see the unexpected when you are blitted out of your mind.
Signature Strain: Super Silver Haze
Best munchies: Tacolicious
Stoner attractions: Hit the bong and head over to Alcatraz Island
Maui, Hawaii
Hawaii is more than just paradise -- it's stoner paradise. Aside from having the optimal climate for any pothead, it offers some of the finest, home-grown buds in the country. The scene really turned in 2000 when the state officially legalized medical marijuana. Hell, there's even a THC Ministry church on the island. If great weather, delicious barbecue and the beach life aren't enough for you, well then that's not weed you're smoking.
Signature Strain: Maui Waui
Best munchies: L&L Hawaiian Barbecue
Stoner attractions: Smoke some pakalolo and go to Kapalua Beach
Denver, Colorado
Colorado has quite the knack for supplying some dank buds. All across the state, you will never be disappointed, but it should come as no surprise that Denver is a hub for it all. Being the rocky mountain state's biggest city, you will experience diverse cultures and strains. With the Cannabis Cup taking place here annually, people from all over the world fly in with their finest nugs as the community that's been built in Denver is truly top-notch.
Signature Strain: Big Buddha Cheese
Best munchies: Ba Le Sandwhiches
Stoner attractions: Hit the Pax and head over to the Denver Zoo
Humboldt County, California
Humboldt County, in beautiful northern California, is the epicenter of bomb buds. The climate is perfect for cultivating some of the most delicious strains, as the small town produces nearly 30% of the country's weed. The only problem, however, is that cops have been busting down on growers, which is definitely a major blow. Nonetheless, the quality of weed is great enough to earn the no. 1 ranking on the list.
Signature Strain: Redwood Kush
Best munchies: Humboldt Brews
Stoner attractions: Smoke a jay and go hiking