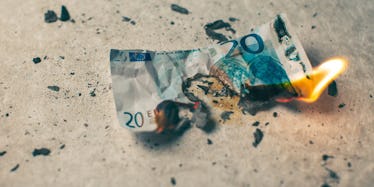 The 10 Best Sorority Rush Videos Ever Created
Stocksy
It's that time of the year again: sorority recruitment. You know that stressful time when girls must spend weeks checking out a vast number of sororities to figure out where they fit in best.
Recruitment and bid day videos flood the Internet in order to demonstrate what each sorority is truly like. Just like sororities, not all videos are created equally.
If you want to take a look at the genuine behavior of these girls, then the videos are the way to go. You can really get a sense of how these sisters interact with one another, which is the most important aspect of joining any affiliation.
Let's take a look at the 10 best sorority videos in the country:
Alpha Epsilon Phi George Washington University 2013
Props to any group of girls who can pull off an A$AP Rocky parody! Despite being a huge group of white girls trying to rap, this is phucking awesome #AEPHIPROBLEMS.
Delta Gamma Florida State University Bid Day 2013
Well, this group of girls may take the cake for being the hottest sorority on a college campus. Check out these girls as they receive their bids and begin their adventure of the best four years of their lives.
Sh*t, I'm a girl and even my jaw is dropping. If a picture is worth a thousand words, how many words is a video worth? Do you even care?
Chi Omega University of South Carolina Recruitment 2013
These girls do an amazing job explaining what their sorority means to them. Some of the chapter members have personal segments where they explain the impact their sorority experience had on their lives. Hoot Hoot!
Kappa Delta Penn State University Recruitment 2013
This fast-paced video really lets a person look into the lives of KD girls at Penn State. There's no holding back as these girls aren't the least bit shy. They explain all of the benefits that joining this affiliation has: from leadership, to philanthropy, to socializing.
Delta Gamma University of Oregon Recruitment 2013
This video is one of a kind, as there are no speaking aspects involved. Rather, the video focuses on the natural interactions between chapter members. It more than displays the true characteristics of sisterhood that girls look for in a sorority.
Alpha Phi University of Arizona 2013
This sorority is all about having fun and that is more than evident in this video. The amounts of group activities these girls participate in are endless. The 3-minute video really does provide a great insight into the sisterhood of this chapter, plus every girl is pretty hot.
Alpha Delta Pi University of Rhode Island 2010
This is probably the funniest recruitment video we have ever seen. The intro is more than captivating, as some creepy girl explains how shark week even has a week dedicated to them. Hmm, I wonder who this chick is? If you attend URI, you better be rushing ADPi as these are the most fun girls on campus who know how to party.
Tridelta University of Central Florida Recruitment 2011
As the video begins, there is no music playing in the background, so it forces you to pay close attention to what is going on in the video. These girls were pretty smart as they typed the names of sorority sisters, so potential new members could head home to Facebook stalk what the girls are really like.
Alpha Phi University of Denver Recruitment 2011
What's a better way to get a sorority girl's attention than a Spice Girls spoof? These girls successfully pulled this off as they displayed what true sisterhood means to them. Despite being the shortest video on the list, they more than got their message across.
Kappa Kappa Gamma Stanford Recruitment 2012
A+ for creativity. This is probably one of the most original rush videos we have seen. These girls weren't afraid to let loose and show their true colors. They don't just parody one song, but 6, that is literally unheard of; it's an epic video to say the least.
Bonus: Sh*t sorority girls say
If you liked this article, check out the sickest sorority houses in the country here.