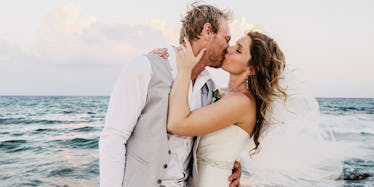 Why The Weeks Between Thanksgiving And Christmas Are The Best Time Of The Year
Stocksy
The holiday season is upon us. Thanksgiving has come and gone and now we are in the exciting interim period between Turkey Day and Christmas.
It's these weeks between Thanksgiving and Christmas that never get enough appreciation. We've opened our Advent calendars and begun counting down the days before Old Saint Nick comes to town.
It's an incredible time to be gallivanting about the streets, looking at Christmas lights and the festive window displays adorning shop windows. It's a time for hot cocoa and ice-skating while we await the first snow of winter to blanket the streets.
It's a time for Netflix and shopping, for cuddling up with your SO and hanging mistletoe in doorways.
The anticipation and wonder are palpable these few weeks, with all the joy and with resolutions for the New Year.
What we never take the time to realize is that though Thanksgiving is a wonderful holiday and Christmas is the crux of holiday spirit, it is in fact these few weeks that are the most wonderful time of the year.
And here's why:
It's time for Christmas shopping
We've made our lists and started to decide what we're going to buy for all of the special people in our lives. It's a time to reflect and everything these people have meant to us, and it's a time to give back and show our appreciation.
Buying Christmas presents can be a bit stressful but is, at the same time, incredibly exhilarating. It's only during these few weeks that we can to have the time to prepare for the big day.
It's the opportune time for winter activities
Now is the time to hit up the local ice rink with your best friends and (probably) fall on your butts in heaps of giggles; now is the time to lay out all of your favorite sweaters and choose which one you'll wear to your holiday parties.
It's during these early December days that we get to enjoy the winter before we commit to the holidays and, finally, let go of the festive spirit before sinking into the long months of January and February.
It's the time of peak optimism
This is the time of year when we're most optimistic. We're still loading off our Thanksgiving feasts while eagerly awaiting Christmas and New Year's. The cold and depressing months that will follow the holidays still seem far away, and we're filled with determination to keep our resolutions and stay positive.
Now is the time to start watching Christmas movies
...And to crank up with Christmas music! Before Thanksgiving, it hardly seems appropriate to watch "The Holiday." But now, with Christmas steadfastly approaching, it's all right to bring out those DVDs and to sing along to your favorite Christmas tunes.
It all helps to build the anticipation we feed on because with Christmas approaching, we all have to be prepared to be as jolly as possible.
It's a time of love
Whether brotherly or for your SO, this is a time of love. Couples can be seen wandering the streets, hand-in-hand; parents can be found carrying their Christmas trees home with their bundled up kiddies.
To quote one of my (and basically every girls') favorite Christmas movies:
Love, actually is all around.
It's a time to be snuggled up, to kiss under the lights of decorated Christmas trees and to indulge in the general merriment surrounding us. It's easy to fall in love with this time of year when there is so much love all around us.
It's a between a vacation and another vacation
You just had a break from work to be with friends and family, and now you have another vacation to look forward to. The party isn't over! During these weeks before Christmas, you still have so much to look forward to.
There's so much champagne to be sipped, so many hors d'oeuvres to sample and presents to open. Everything is happening right now and it gives us all the fuzzies — or is that because of all that champagne? Either way, we're happy.
Your holiday office party
Getting drunk with your coworkers is always an interesting experience. Whether you love them or you hate them, everyone is in a good mood at the holiday office party.
It's a great excuse to get dressed up, drink an inappropriate amount of whiskey cocktails with your boss and make awful toasts like, "NO NEW FRIENDS!" before throwing back that last shot.
Even if Pam gets drunk again and takes off her bra, at least you'll have something to talk about while you all nurse your hangovers the next day.
You can eat whatever you want
There's no point in staying on your diet after Thanksgiving when you have Christmas coming up. Holiday weight gain is a real struggle, but it's totally worth it. If you're just going to splurge again come Christmas, why even bother with a gross salad instead of something savory?
This is the only time of year that this behavior is appropriate.
Have that extra piece of finger food — read: 100 pieces. You can worry about your resolution to go to the gym three times a week after New Year's. Party on.
Alcohol
One of the most important things, if not THE most important thing, about the holidays is this: It is time to get drunk.
During this joyous time of the year, it's entirely socially acceptable — nay, encouraged — to get ridiculously hammered.
Unless you're sneaking away to the Caribbean with your rich boyfriend to lie on a beach all day (haha, we wish), there'll be no other time where it's OK for you to indulge too much in the drink.
So, sip those suds, baby, because 'tis the most wonderfully drunk time of the year!