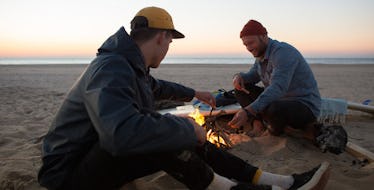 You Deserve It: Why You Should Take A Mini Vacation During The Week
If the best part of your day is plopping into bed after a long day at school or a hard shift at work, it's probably time for a trip.
I'm here to tell you it's totally okay to travel during the week, as long as it's done responsibly.
So, save up some of that paid time off, or crunch out some homework, and read on to find out exactly how and why you need to take a guilt-free weekday trip:
Why weekday travel is the best:
Taking a trip over the weekend just won't always cut it.
Traveling over the weekend is fun, but can put unnecessary stress on the travelers.
Trying to get to said destination, experience all the town has to offer and get back in one piece in time for work or school engagements can suck all the fun out of traveling.
The whole point of a vacation is to get free from stress for a while, and return to work refreshed.
You'll have more time to really immerse yourself in the culture if you choose to go during the week. With less time constraints, travelers can plan ahead a little bit more, even if the trip is super last-minute.
If you give yourself an extra day or two to enjoy the place, you can feel free to plan as you go, without counting down the hours until you have to head back to reality.
When you allow yourself some breathing room when doing something spontaneous, you can really enjoy what is happening that much more.
You can also appreciate who you're doing it with, instead of being a step ahead and thinking about what you should be doing next.
Making memories is simply priceless.
How to achieve weekday bliss:
It may seem a tad out of reach for some of us to travel at a whim, but actually, it is totally attainable for students and dedicated workers alike.
Planning a trip in the middle of the week is actually cheaper than planning one over the weekend.
Because weekend travel is so popular, most hotels and airlines will lower their costs for vacations on weekdays.
Not only that, there are many places that will offer discounts to students, alumni and military personnel.
If you are concerned about saving some bucks, try bringing food to make in your room (or have a picnic), instead of always eating out.
Download some cash-saving apps like Groupon or GasBuddy, to make sure you're getting the most out of your dollar.
It may not be the most appealing, but if you are really concerned about spending too much money, try traveling somewhere fairly close.
Even traveling a few hours away will seem like an entirely new adventure, as opposed to somewhere halfway across the nation (or the world).
If you choose to travel during the week, save a day or two to unwind after you get back from a luxurious getaway. Even though travel is a great time, readjusting to "normal life" can be a little stressful when you try to get it all done in a few hours.
Save yourself some time to unwind and unpack at your leisure.
You don't want to throw your vacay zen all out of whack.
Understanding travel and time away is good for the mind and the soul, is the key to getting the most out of your experience. Don't feel guilty for having a wonderful time away from the stress of modern living.
Money spent on peace of mind is always money well spent.