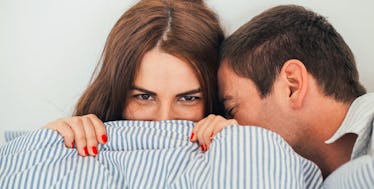 What Saint Patrick's Day Means To Me As The Daughter Of A Firefighter
Stocksy
Growing up as a fireman's daughter, Saint Patrick's Day was always a big deal. It wasn't just a day, it was a season.
For as long as I can remember, we attended parades as if we were on a campaign circuit -- especially the Newark and Seaside Heights, NJ parades.
No matter where we went, everyone knew my father and would grab him to talk, to hug him or to buy him a drink.
I knew my dad was a respected fireman and captain, and later, battalion chief in the Newark Fire Department. I was proud to spend that day with him.
When I was a baby, my father would push me alongside him as he marched in the parade in a stroller. As a toddler, he would carry me for some of the stretch -- him in his uniform, me in an evergreen peacoat and matching bonnet.
As kids, my siblings and I would all get to ride in the firetruck, waving to the crowd and throwing them candy.
We would spray Silly String at one another and eat those amazing pretzels you can only get at a parade.
After, we would go with all the other families to this huge Saint Patrick's Day celebration, where there would be corned beef and cabbage, dancing and firemen in kilts playing the bagpipes.
They would play the kind of music that would give anyone the chills -- songs like, "Amazing Grace."
The reverberations would shake and rattle the whole establishment. It's the type of music that made you proud to be a part of the day and tradition.
I loved dressing up for the day. My mom would put my sister and me in cute, green, plaid skirts and green bows in our hair. She would put our younger brother in a bow tie.
I would pretend I knew how to do a proper Irish jig, and place my hands on my hips and just kick my feet around.
To top the month of March off, my Italian mother cooked a ton of corned beef, cabbage and potatoes. For years, my parents hosted their very own Saint Patrick's Day party at our home.
There'd be music, laughter and a life-size cut-out of supermodel Kathy Ireland in our dining room to pose and take Polaroid pictures with.
I've known forever what a shillelagh was, and I know my father owned at least two of them. I knew all of the classic Irish songs, like "When Irish Eyes Are Smiling," and would sing along with my father.
He named my sister "Kellie," a traditional Irish name, but instead of ending her name in a "Y" he chose an "IE."
He would always joke that he did that just to avoid any confusion if she ever married a man whose last name was also Kelly.
As we got older and moved to the Jersey Shore, my dad began to regularly march in that parade.
Dynamics change as they always do, and my friends and I began to treat the day like most other 20-somethings. I began to take my ensemble for the day even more seriously, wearing crazy shamrock socks and light up sunglasses. I even began designing my own shirts for the day.
My green shirt with iron-on letters always reflected what had happened that year.
For example, the year Charlie Sheen lost his mind and the horrible show, "Jersey Shore," was at the height of its popularity, my shirt said, "Sheen > Snooki," and had Sheen's mugshot on the back.
After Hurricane Sandy, my neon green shirt simply stated, "Be back shORTLEY," a nod to my favorite beach town in the area that had been hit the hardest by the storm.
Like most others, my friends and I began taking taxis to the parade, so we could start to drink green beer and down Irish car bombs by 11 am.
I would run into my parents, who were out and about after the parade with their own friends, but for the most part, I began to do my own thing.
A lot changed as I grew up, and yet, I always made it a point that no matter where I was during the parade, to run outside right as my dad was marching by.
I would jump in the parade, walk a couple feet with him and then hop back out and rejoin my friends. It was still my favorite part of the day.
I cannot think of this holiday without thinking of my father; they are one in the same. I missed the parade this year, and I spent most of the day upset that I wasn't there.
It wasn't because I missed warm beer being spilled all over me, the crowds at the bar, or being hungover by 3pm, but because I missed what that day always meant for me and my dad.
No matter what I have going on in my life next year, I will make sure to be there, as long as he is, too.
Happy Saint Patrick's Day!