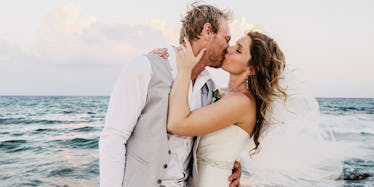 My Mother, My Best Friend: It's Not Too Late To Appreciate Your Mom
Stocksy
I had a special relationship with my mom. I know tons of girls say that, but I really mean it.
We had a bond closer than blood; however, we didn't even share blood.
My mom adopted me from South Korea when I was 5 months old. She had already adopted three of my siblings when she picked me up from the airport.
This Sunday will be the third Mother's Day I've spent without her, and let me tell you, the pain is still fresh.
I still remember all the little things I used to do for my mom on special holidays. I'd write her handwritten cards using pink crayons; I'd make an envelope out of construction paper and dot it with tiny hearts.
My mom was a special lady. She was a teacher, a single mom and an honest, truly good person. She didn't lie or speak badly of others, and she always put her children first.
My mom is my hero, and I lost my hero on September 12, 2012 to Leiomyosarcoma, or LMS.
It's a long, complicated-sounding term that still gives me chills when I hear or read it. These sarcoma cells spread quickly and resist treatment.
The doctors told me this diagnosis is so rare, specialists only see one case per year, if at all.
We thought she had more time, but she didn't. With Mother's Day coming up, I've been emotional, but I'm finally in a place where talking about her doesn't immediately make me cry.
I also think it's good to share your story, especially if it can help others.
In short, my mom and I were best friends. You know that phase when teenagers rebel against their parents and pull away?
I never did that. I confided in her when I was scared, and I ran to her when I was upset. I asked her for advice when I was confused.
I'm so glad I had her support growing up. My mom was a deeply sensitive person, and in a way, I inherited that trait from her.
We both had big hearts that came with a big price. We both got hurt easily, but she taught me it was worth it.
Because of my mom, I know shutting people out can make you feel safer, but won't make you happy. You end up missing out on good things.
My mom was alone for 11 years after her husband left us to start a new life. She dedicated all her time to helping us grow into ourselves.
When my mom finally opened her heart to someone and remarried, I realized that being vulnerable isn't such a bad thing if you're lucky enough to find the right person.
My mom also taught me to be kind. She didn't like negativity, and thanks to her, I watch my words with cashiers, waiters and bank tellers. I thank the janitorial staff when most people don't even see them. I smile when I say hello to strangers.
I miss my mom every day. I miss the way she made grilled cheese sandwiches with foil on an ironing board. I miss the way her voice ricocheted off the hallways when she yelled my name when she couldn't find me.
I even miss when she was mad and told me to stop being so clumsy and spilling things.
I was lucky I got to say goodbye to my mom. I kept her company in her final days and hours. Not everyone gets that chance, and I count my blessings for it every day.
With Mother's Day getting closer, I urge you to read this with an open mind and an open heart. No matter what is going on in your life, take the time to say thank you to the people you love.
No one lives forever, and it's important to step back and make each moment count like it's your last.
It's never too late to thank your mom for all the late nights she spent nursing you back to health. Or, for the time she spent trying to convince you it's just a rough patch, and you will find your way.
Wherever you are, pick up the phone and call your mom. Give her a hug as soon as you can and cherish the time you have with her.
It's never too late to start, but don't wait until the seconds run out.