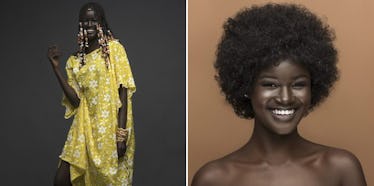 Khoudia Diop Gets Real About Bullies, Skin Care And Her Beauty Routine
Khoudia Diop is doing something right to rack up a fan base of more than 440K followers on Instagram… and it goes way beyond the fact that she's a beautiful model.
This 20-year-old Senegalese "Melanin Goddess" is all about encouraging young women to embrace who they are, without feeling the need to alter themselves to what society deems beautiful.
Diop recently partnered with Icelandic Glacial to work on a campaign that commemorates authenticity.
She reveals to Elite Daily,
I feel it's important to empower young women. They consume media that can make them feel inadequate or less than physically. I was so excited to work with Icelandic Glacial and tell the world that it's okay to be who you are. To be authentic and love it.
What attracted Diop to collaborating with Icelandic on the campaign was the fact that it's not only about honoring your authenticity, but also your unique beauty and happiness, too.
Diop opens up about her personal experience of being an ambassador for authenticity.
She says,
Years ago, I would wake up, and the first thing I would think about is how to change my skin color. So to go from that, to being an ambassador for authenticity feels amazing. I feel free from so many things that once haunted me, and I'm very grateful.
The model gets real about one of the toughest rejections she has ever faced.
Colorism is one of the least talked about issues when it comes to minorities.
Diop says,
Being bullied, mostly, by other black people, and them seeing me, as "too dark." Which never made sense in my head. That's the worst rejection.
She has a little advice for any young girl who's dealing with a bully today: Ignore them like it's your job. Because, who the heck are they to judge YOU in any way, shape, or form?
And for any girl who lacks confidence, Diop's biggest piece of advice is this:
Be yourself, your authentic self. Embracing what makes you unique is incredibly empowering.
Diop stresses the importance of giving her skin the nourishment and care it deserves.
If you've noticed Diop's flawless complexion on Instagram, there are some beauty products she simply cannot live without. She tries to rest it up when she can, and stays hydrated throughout her hectic schedule.
Along with fresh water before putting on her makeup, the 20-year-old model works Make Up For Ever's Ultra HD Foundation and Aveeno Positively Radiant cleansing wipes into her beauty routine.
She applies natural shea butter on her skin to achieve a gorgeous glow.
Cheers to the Melanin Goddess for being a complete and utter girl boss, while empowering young girls and women everywhere.