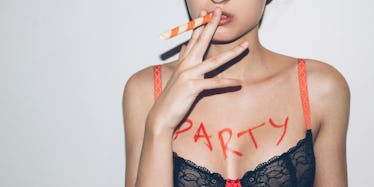 Here's The Low-Down On All The Lesbian Events Happening During LA Pride
If you've ever gone out in West Hollywood, you may have noticed the sea of beautiful, coiffed gay men all around you. Did you see any lesbians at all? Did you have to really think about that one? My lesbian and straight-but-questioning-things friends and I have spent countless nights scoping out "girl's nights" at gay bars and are inevitably let down every time.
It's not that I can't get down with a room full of gay guys because, believe me, I can. But from time to time, it would be nice to have easily accessible lesbians around and to not be the minority. It would be nice to talk to a pretty lady and occasionally not be turned away because she's straight. Most of all, it would be really nice to feel a sense of community -- a lesbian community.
I recently joined a gym right in the heart of the gay district thinking I would surely find a lesbian or two there. Sure enough, the first time I stopped by for a workout, the entire gym was full of men. Despite the fact that they all had bodies chiseled from stone, I was still disappointed. When I stepped outside after my workout to take a quick dip in the jacuzzi, surprise, surprise! It was filled to the brim with men. And when I opened the door to the sauna, six sets of manly man eyes looked up at me. Everywhere I turned I ran into men, men, MEN!
My girlfriend and I joke about opening a lesbian bar called tête-à-tête, but until that day, there is but one thing the lesbians of Los Angeles can wholeheartedly look forward to: LA Pride. LA Pride, though replete with gay men as well, offers a perfect balance of gay events. There are several events specifically dedicated to lesbians at which you are sure to find many, many lady-lovin' ladies!
First, we have your more "official" lesbian events including Dyke March, Dykes on Bikes, Dyke Day LA and the Dyke Day LA after party.
Then you've got more underground lesbian events, like The Bassment (which is hosted by Shane from "The L Word" and DJ Samantha Ronson… Remember when she dated Lindsay Lohan?).
Then you have the unintentional lady-loving events. Many would argue that Da Brat performing at the LA Pride Festival is a lesbian event in itself!
These "lesbian-driven" Pride events are about more than just seeing gay females around you. They actually provide a sense of community. Lesbian comradery, if you will. Last year, I was a little timid going into Dyke Day LA for the first time. I wasn't extremely experienced in socializing with lesbians for all of the aforementioned reasons, so I didn't know what to expect.
You can imagine my (pleasant) surprise when I rolled up to a field full of women, most of whom were some degree of gay. As soon as we arrived, a friendly, petite lesbian went out of her way to welcome my friends and me. She even asked for an interview for a gay blog and ended up sticking around just to get to know us. Throughout the day, I was invited to join a game of Frisbee, share a joint, meet tons of dogs dressed in rainbow garb and eat BBQ -- all by different groups of women. You could say that Dyke Day LA is a lesbian Utopia. At the very least, it's a break from the West Hollywood norm.
So this year, take advantage all the female-driven glory LA Pride has to offer. If you're a lesbian, a bi chick, or just feel a constant urge to snuggle with all your female friends, take this opportunity to let your lesbian flag fly!