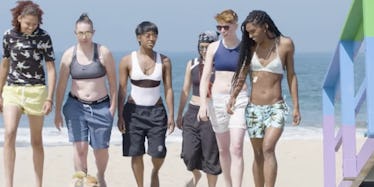 This Inspiring YouTuber Is Completely Redefining What A "Beach Body" Looks Like
YouTube
I am not, and have never have been, a huge fan of summer.
Maybe it's because July humidity is awful and I can't take the heat, but a large part of why I feel so uncomfortable June through August is because, during these three months, my body will be exposed more than any other time of year, and my body, as well as what I dress it in, will be silently judged.
In a recent video entitled "Beach, Please" for Great Big Story, YouTuber and Tomboyish founder Ari Fitz challenges what it really means to have a "beach body" in 2017.
Personally, I can't stand the term "beach body," and you can bet my future daughters will never hear the term uttered from my lips.
The phrase represents a limiting, linear definition for both women and men, in which it's implied that a person must only want to show off a feminine, lean physique with toned triceps and calves; thick, curvy thighs in a bikini; or sport washboard abs and a pair of trunks.
Clearly, human beings can, and do, identify themselves in so many other ways outside of those representations.
And for those who do, they can find solace in the gray area between masculine and feminine that Tomboyish creates for them.
Fitz explained in the video,
As a queer person, as a woman, as a woman of color, I feel like there are so many things in the world that want to silence us, silence me, minimize me and minimize my experience in this world. What we choose to wear signifies that we are here, we are present, and we are not going to be silenced, we're not going anywhere.
But even once you've nailed the style that is unapologetically you, it's easy to be disheartened by the lack of androgynous choices available as far as beach attire goes.
Fitz continued,
It's also a very gendered space. The moment you put your toes in the sand, you know it, and you feel it. And you know that you have to kind of pick one side of the spectrum. Either you're more on the masculine side, or you're more on the feminine side. What does that do for everyone that doesn't exist on one clear side or the other?"
Fitz is curating a look-book that "features all things swimwear for those who don't exist on the hyper-masculine side or the hyper-feminine side" of the spectrum.
The key, she said, is to pull pieces that wouldn't normally be categorized under "beachwear," and make them your own.
Fitz captures both the beauty and the power in not only knowing who you are, but showing that to the world through fashion.
You may technically wear less on the beach, but Ari Fitz sheds light on the inarguable fact that your one-pieces, bikinis, shorts, and swim vests speak so much louder than you realize, now more than ever before.
So take her advice and get creative! Introduce your usual beach wardrobe to cool, vintage T-shirts and colorful, ripped bodysuits -- even if it's not what everyone else is wearing this summer.
After all, as Fitz said,
The stress and the trauma that people experience when they go to a beach is so unnecessary.
If life's a beach, and you're just playing in the sand, you might as well be comfortable doing so.